The Sentinel takes position in August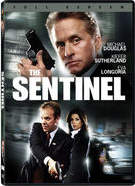 It has been a long time since we had the chance to see Michael Douglas in a new movie, but finally he's back, teaming up with Kiefer Sutherland and Eva Longoria, this time. Information just came in about 20th Century Fox Home Entertainment's plans to release The Sentinel on DVD this August.
There's never been a traitor in the United States Secret Service… until now. And the evidence points to Pete Garrison (Michael Douglas), one of the most trusted agents on the force. Now on the run, with two relentless federal investigators Kiefer (Sutherland and Eva Longoria) hot on his heels, Garrison must fight to clear his name and thwart an attempt on the President's life before it's too late!
The DVD version of this explosive thriller will be available in a widescreen and a fullscreen version and also contain a few interesting extras, such as a Commentary Track by director Clark Johnson and Writer George Nolfi. Also included are a selection of Deleted Scenes with optional commentary by Nolfi and an Alternate Ending, also with optional commentary by Nolfi.
A number of Featurettes are also included, such as "The Secrect Service On A Tradition Of Excellence" and "In the President's Shadow: Protecting the President. The release will be rounded out by a selection of trailers.
"The Sentinel will be in stores on August 29 with a suggested retail price of $29.99