Voyage To The Bottom Of The Sea comes to DVD soon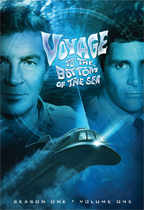 20th Century Fox Home Entertainment has just provided us with some information about the upcoming release of Voyage To The Bottom Of The Sea: Volume One. Based on the 1961 blockbuster film this TV series follows the world's first privately owned nuclear submarine – the SSRN Seaview – on its journeys beneath the deep, encountering sea monsters and other perils unimaginable to the land-locked masses. Running from 1964 to 1968, "Voyage To The Bottom Of The Sea" was initially broadcast in black and white, but transitioned to color after 110 episodes.
Welcome aboard the Seaview, "the most extraordinary submarine in all the Seven Seas!" From the outside, the ship appears to be a high-tech research vessel, but it's actually the U.S.'s mightiest weapon of the Cold War, sent on perilous, top-secret missions to battle the enemies of mankind. Join Admiral Harriman Nelson, Commander Lee Crane and the crew of the Seaview as they venture through a breathtaking undersea world in Irwin Allen's action-packed TV classic where science-fiction adventure meets espionage thriller!
This four-disc DVD collection contains all 16 exciting episodes from the first season, including the thrilling unaired pilot of the show, though now bonus materials will be found on the release.
"Voyage To The Bottom Of The Sea" will be in stores on February 21 with a $39.98 sticker price attached.