Warner Brothers brings us back to The Killing Fields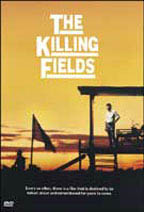 Warner Brothers Home Video has announced plans to release The Killing Fields to DVD next year.
In the days after the American evacuation of Cambodia, New York Times reporter Sidney Schanberg stayed behind, putting his life and the lives of those around him in jeopardy. This powerful film is based on Schanberg's memoirs.
Directed by Roland Joffé, the 1984 film stars Sam Waterston, Haing S. Ngor, John Malkovich, Julian Sands, Craig T. Nelson, Spalding Gray, Bill Paterson, Athol Fugard, and Graham Kennedy.
Warner Brothers Home Video will release the film with a widescreen transfer, letterboxed in the film's original 1.85: 1 aspect ratio. Bonuses will include additional footage, cast/crew bios, and the theatrical trailer.
The disc will be released March 1st, and will have a suggested retail price of $24.98.