Shark alert! We got the exclusive details for Universal's upcoming Jaws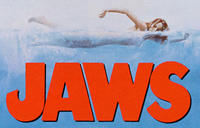 Since all of you have been waiting for this title for so long, we decided to go to the bottom of things and find out all the details about Universal Home Video's DVD release of Stephen Spielberg's Jaws.
Scheduled for release on July 11, the Collector's Edition DVD will feature an anamorphic widescreen transfer of the film in its original 2.35:1 aspect ratio. It will be available in two separate versions, one containing a 5.1 Dolby Digital audio track, and the other one with DTS audio. Both versions contain a "Making Of" featurette filled with fascinating background information and rare behind-the-scenes and historical footage about the film's production, including interviews with director Steven Spielberg, screenwriter/author Peter Benchley, stars Richard Dreyfuss, Roy Scheider, Lorraine Gary, producers Richard D. Zanuck and David Brown, production team members and the creation of "Bruce" the shark. Other bonus features you will find on the disc include deleted scenes, outtakes, "Shark World," an educational look at sharks, the original "Jaws" theatrical trailer, a photo gallery, storyboards and production drawings, a trivia game and a PC screen saver.
The release will be supported by a massive advertising, TV commercial and promotion campaign, including a cross-promotion with Microsoft. In support of the release, Microsoft's WindowsMedia.com, the MSN guide to audio and video on the Internet, will feature "Jaws" teaser trailers and footage from the film at http: WindowsMedia.com. Microsoft will also develop a custom "skin" which will transform the Windows Media Player into a gaping shark's mouth through which "Jaws" fans can watch the trailers and other video streams. The "Jaws" specials, available only in Windows Media Format, will be promoted in the weekly WindowsMedia.com newsletter.
Based on the popular bestseller by Peter Benchley and produced by Richard Zanuck and David Brown, Jaws both fascinated and terrified audiences, breaking box office records upon its release in 1975 and creating a new genre, the "summer blockbuster." Filled with heart-stopping tension and stunning power, the powerful film launched director Steven Spielberg's phenomenal commercial success and won three Academy Awards: Best Sound, Best Original Score and Best Film Editing. In addition, the memorable score won a Golden Globe Award for "Best Score" and was named as one of the Top 100 Films by the American Film Institute.
Jaws also introduced the predatory shark as a new cinematic icon and struck a primal chord with audiences, who connected overwhelmingly with the film's mixture of action adventure, terror, and moments of hilarity. The impact was so enduring that audiences never looked at the water the same way again in this suspenseful story of an eastern seaboard community terrorized by a giant white shark.
The "Jaws" Collector's Edition will carry a suggested retail price of $26.98!