A biblical battle is coming to DVD – Dreamworks' Prince Of Egypt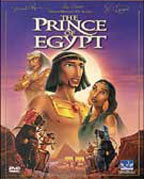 As we had exclusively reported on these pages earlier this year, Dreamworks Home Video is currently preparing their breathtaking animated feature film Prince Of Egypt for release on DVD. This Signature Collection disc will finally find its way to retailers on September 14. Apart from a Making-Of documentary, the release will contain a slide show, trailers and a running length commentary. "Prince Of Egypt" will carry a suggested retail price of $34.95. "Prince Of Egypt" is the animated biblical tale of two very different brothers. Rameses will rule Egypt as Pharaoh and Moses will become one of the greatest heroes in the history of mankind.
EXTRA! EXTRA!
To make the wait for this breakthrough animated feature from Dreamworks Home Video more tolerable, we also have some exciting news for all our readers. Soon we will start yet another one of our acclaimed exclusive Production Diaries, dedicated to "Prince Of Egypt".As in our current Halloween Diary, we will take you behind the scenes to give you a close look at the preparations and production of this DVD.
Please make sure to take a look at our Release section for more information on this and a large number of other new title announcements. Stay tuned…