Sony is bringing "Zombieland" to life in 4K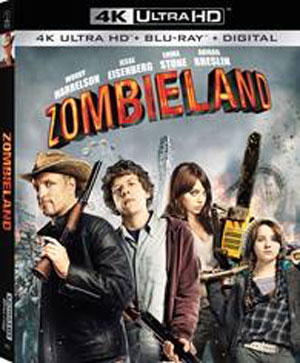 Sony Pictures Home Entertainment has just added a 4K UHD version of the exhilarating 2009 horror-comedy Zombieland to its line-up, scheduling the movie for release well in time for Halloween.
Nerdy college student Columbus (Jesse Eisenberg) has survived the plague that has turned mankind into flesh-devouring zombies because he's scared of just about everything. Gun-toting, Twinkie-loving Tallahassee (Woody Harrelson) has no fears. Together, they are about to stare down their most horrifying challenge yet: each other's company.
The release will not only feature a new 4K ultra high definition presentation with a Dolby Atmos audio track, but it will also come with a number of extras. Among the supplements you will find the brand new Retrospective Featurette "Raised From the Dead: Zombieland A Decade Later", as well as Behind the Scenes with the Cast and Crew of Zombieland, Shootin' Zombies with Ruben Fleischer.
On the Blu-Ray disc that is also part of the package, you will find the Picture-in-Picture Track "Beyond the Graveyard", along with a Commentary Track with Filmmakers and Cast members.
The Featurettes "In Search of Zombieland" and "Zombieland is Your Land Featurette" will also be included, as well as Deleted Scenes, Visual Effects Progression Scenes, Theatrical Promo Trailers and the Theatrical Trailer.
Zombieland opens its gates on October 1!