Birdman: Or The Unexpected Virtue of Ignorance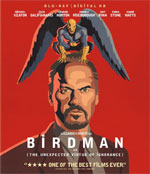 Birdman: Or The Unexpected Virtue of Ignorance (2015)
20th Century Fox Home Entertainment
Cast: Michael Keaton, Edward Norton, Emma Stone, Naomi Watts, Zach Galifianakis
Extras: Interviews, Featurette, Photo Gallery
Rating: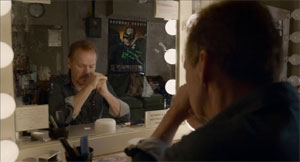 One can easily disagree with the Academy's decisions when it comes to honoring movies, and this year's Academy Awards were no different. I think, however, that by awarding "Birdman" with an award for Best Film they did truly honor a movie that is oozing imagination from every frame. Needless to say that I was eager to check it out on Blu-Ray when Twentieth Century Fox Home Entertainment sent over the disc.
"Birdman" tells the story of Riggan Thomson (Michael Keaton), an aging Hollywood icon, who is trying to restart his career. By writing, producing and acting a theater play on Broadway, he tries to prove that he is much more than a pretentious Tinseltown wanna-be. While theater critics snub their noses at him during the preparations leading up to the play's premiere, Riggan remains steadfast. He wants to make sure the world knows that playing the winged Birdman superhero that made him famous is only a small facet of what he can do. The desire to prove himself for good drives him.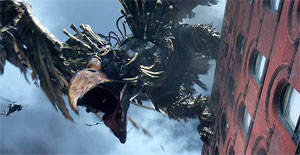 But Riggan is not alone. Like a small devil, the voice of his superhero alter-ego is constantly talking to him. Soothing him, challenging him, daring him, mocking him. Tempting him with the promise of yet another Birdman movie—easy money—the voice is stoking Riggan's fire, convincing him that the easy way out would be nothing but a step back, a coward's way of admitting defeat. No, Riggan Thomson will not accept defeat. He will prove to the world that he is one of the greatest living actors!
In the hands of writer/director Alejandro González Iñárritu a story that could have ended up being a banal cliché turned into a film that is so inspired that you simply can't help but admire it. Clearly, the film echoes quite a bit of Michael Keaton's very own story, and perhaps that is the reason why we can connect with him on such an intimate level in the film. With "Batman" having been one of Keaton's biggest successes and his complete lack of prolific presence in the past decade, his career instantly compares to the tribulations we see Riggan go through.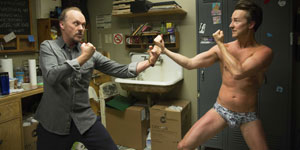 Accompanied by a furious performance by Ed Norton, Michael Keaton is truly at his best in this film, always on his toes, keeping viewers on the edge, wondering what exactly is going on in his mind. The physicality of these two actors, particularly when they share the screen, is incredible and it has been a long time that I found a pair of actors such a magnetic watch. Norton ready to explode at any moment, conjuring up memories of "Fight Club," and Keaton ready to kick his ass into the next waste bin any moment. This is pure cinema gold. These are moments that define the word "classic."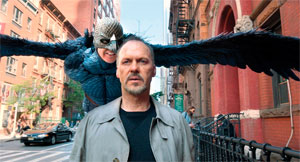 Meanwhile Iñárritu manages to blur the lines between reality and fantasy and often you will ask yourself, what is real and what is imagined. Is Riggan really floating in mid-air in his undies in the film's opening shot? Does he really possess superpowers, or is it perhaps all just his imagination… a nervous breakdown, perhaps… or even impending madness? Iñárritu is daring in his approach, often opting for artistic visualization, completely breaking the Hollywood stereotypes and formulas. He breaks down the story arc and allows his characters to do the unexpected. Then, as viewers recover, he hammers them with yet another surprise in the story or its presentation, rousing our emotions as we go along, getting more and more connected with the characters and their struggle.
In a word, "Birdman" is truly a masterpiece!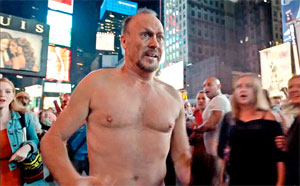 Twentieth Century Fox Home Entertainment has released the film with a glorious 1080p high definition transfer on this Blu-Ray disc. The presentation is pristine with incredible colors. Whether it is the dimly lit backstage area of the theater, the dramatically lit stage or the outdoors, including Broadway at night, the Blu-Ray disc excels in every way. Colors never bleed and turn out to be vibrant and rich without distracting artifacts. The same is true for the transfer's black levels. Shadows are a major component in Iñárritu's cinematic vocabulary, and the transfer makes sure to carry it across with bravado. The image has beautiful depth and never loses detail to shadows.
Accompanied by a DTS 5.1 HD Master audio track, the Blu-Ray release also impresses in the audio department. A key component of the film's very unique feel and atmosphere is the music. Consisting almost entirely of nothing but a jazzy drum with beautifully rhythmic grooves that perfectly syncopate the events on the screen, the sound track is as unique as the film itself and completes the experience as a whole. It is great to see that the sound mix presented on this release ensures that the drum is reproduced absolutely faithfully with even the most subtle changes in timbre intact. It is as if the drum player is sitting right there in the room with you.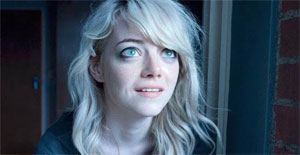 Twentieth Century Fox Home Entertainment is not exactly known for their lavish Blu-Ray releases and as such it is hardly surprising that the bonus features on the release are quite limited. Considering that the studio is actually asking a steep $39.99 for its new theatrical releases, the dearth of bonus features is almost insulting to be honest.
All you will find on this release is a brief conversation with Michael Keaton and Alejandro González Iñárritu and a short "Birdman: All Access" promo featurette, along with an on-set photo gallery. Clearly, the studio could have done a bit better in this department.
"Birdman" is as unique as it is exciting. It is a film that feels completely fresh. It is a film that has vision, and it is infectious. This is a solid, if rather bare-bones Blu-Ray release, that you should definitely check out for yourself.