"Daybreakers" come to 4K UHD in September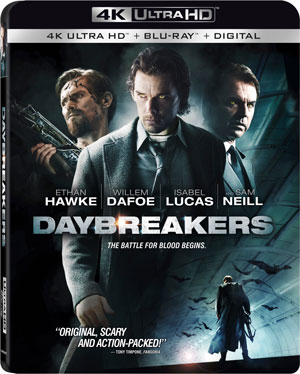 Lionsgate Home Entertainment has just added Daybreakers to its line-up, scheduling a release of the 2009 action-horror movie on 4K UHD in September.
Edward Dalton (Ethan Hawke) is a researcher in the year 2019, when an unknown plague has transformed the world's population into vampires. As the human population nears extinction, vampires must capture and farm every remaining human, or find a blood substitute before time runs out. However, a covert group of vampires makes a remarkable discovery in the form of two fugitive humans, one which has the power to save the human race by possibly converting vampires back into their original human selves
Aside from the movie itself, presented in Dolby Vision and a Dolby Atmos audio track, the release will also include a Commentary Track with Co-Directors Peter and Michael Spierig and Creature Designer Steven Boyle.
Also included is the "Making of Daybreakers" Multi-Part Documentary and "The Big Picture", a Spierig Brothers Short Film. The release is rounded out by the movie's Theatrical Trailer.
Daybreakers will arrive in stores on September 10 and can be yours for only $22.99.