Jennifer Lopez enters the "Second Act" in March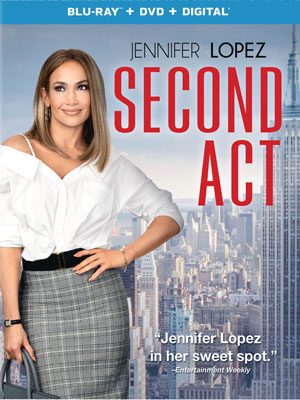 Universal Pictures Home Entertainment has just added the romantic comedy Second Act to its line-up, scheduling the film for release in March.
From the director of 50 First Dates and Get Smart, Second Act is a heartfelt comedy that will inspire and empower audiences of all ages to reach for their biggest dreams. Maya (Jennifer Lopez) is a 40-year-old woman struggling with frustrations of not having achieved more in life. As an experienced, quick-witted, perceptive employee, she is passed over for promotion solely because she doesn't have a college degree. Until, that is, she gets the chance to prove that street smarts are as valuable as book smarts and that it is never too late for a Second Act.
The release will also offer up a number of bonus features, such as a Commentary Track featuring the cast and filmmakers, as well as a host of Featurettes.
Among them, you will find Connecting with Milo Ventimiglia, in which you can see how Jennifer Lopez and Milo Ventimiglia connected on and off the screen in this behind-the-scenes piece.
In The Empowering Women of Second Act, get an inside look at how the women of Second Act empowered and supported each other, while Friendship On and Off Screen gives you a glimpse at how real-life best friends Jennifer Lopez and Leah Remini had fun on set and how their real chemistry played on screen.
Working with the Ones You Love is behind-the-scenes look at how the whole cast had fun while filming Second Act.
Second Act will arrive in stores on March 26 and can be yours on Blu-Ray Disc and DVD.