"Suspiria" arrives in January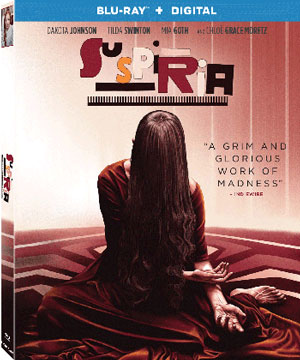 Lionsgate Home Entertainment has just added the remake of Dario Argenta's landmark cult thriller, Suspiria, for release on Blu-Ray Disc in late January.
Young American dancer Susie Bannion arrives in 1970s Berlin to audition for the world-renowned Helena Markos Dance Company, stunning the troupe's famed choreographer, Madame Blanc, with her raw talent. When she vaults to the role of lead dancer, Olga, the previous lead, breaks down and accuses the company's female directors of being witches.
As rehearsals intensify for the final performance of the company's signature piece, Susie and Madame Blanc grow strangely close, suggesting that Susie's purpose in the company goes beyond merely dancing. Meanwhile, an inquisitive psychotherapist trying to uncover the company's dark secrets enlists the help of another dancer, who probes the depths of the studio's hidden underground chambers, where horrific discoveries await.
The release will feature the movie itself along with a "The Making of Suspiria" Featurette, as well as the Featurettes "The Secret Language of Dance" and "The Transformations of Suspiria".
Suspiria will arrive on Blu-Ray Disc with a Digital Copy for $24.99 for $19.99 on January 29. No DVD version appears to be scheduled for release at this time.