"Snowpiercer" is headed your way
This morning, Anchor Bay Entertainment announced details about the upcoming release of the post-apocalyptic thriller by Korean director Bong Joon Ho.
After a failed global-warming experiment, a post-apocalyptic Ice Age has killed off nearly all life on the planet. All that remains of humanity are the lucky few survivors that boarded the Snowpiercer, a train that travels around the globe, powered by a sacred perpetual-motion engine. A class system has evolved aboard the train, fiercely dividing its population—but a revolution is brewing. The lower-class passengers in the tail section stage an uprising, moving car-by-car up toward the front of the train, where the train's creator and absolute authority resides in splendor. But unexpected circumstances lie in wait for humanity's tenacious survivors…
The surprise summer hit, featuring an all-star cast lead by Chris Evans, Song Kang Ho, Tilda Swinton, Jamie Bell, Octavia Spencer, Ewen Bremner, John Hurt, and Ed Harris, will make its way to Blu-Ray Disc and DVD this fall.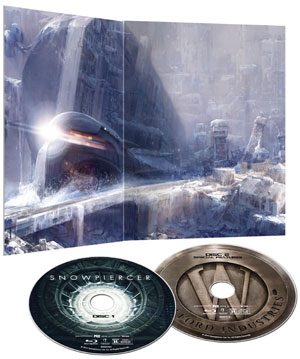 The release will feature a Critics' Commentary Track hosted by Scott Weinberg, as well as an additional disc jam-packed with special features, comprised of The Birth of Snowpiercer, The Characters, Animated Prologue, Concept Art Galleries, Chris Evans & Tilda Swinton on Snowpiercer, The Train Brought to Life, which gives you a look behind the scenes of a special screening, and Transperceneige, discussing the transformation from blank page to the black screen.
The sci-fi epic "Snowpiercer" will be in stores on October 21 for $29.99 on Blu-Ray Disc and $24.98 on DVD.