"Star Wars: The Last Jedi" makes a stand in March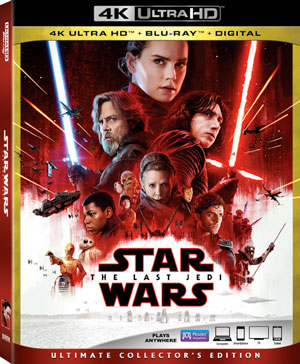 Walt Disney Home Entertainment and Lucasfilm have announced the upcoming release of Star Wars: The Last Jedi, scheduling 4K UHD, Blu-Ray Disc and DVD versions for release in late March.
The visually stunning film welcomes the return of original characters, including Luke Skywalker, Princess Leia, Chewbacca, Yoda, R2-D2 and C-3PO and further explores the deepening journey of the saga's new members, Rey, Finn, Poe, and Kylo Ren.
Director Rian Johnson takes fans on an intimate journey into the creation of Star Wars: The Last Jedi in a feature-length documentary, explaining his unique interpretation of the Force, detailing the painstaking process of creating Snoke, and deconstructing action-packed scenes from the film such as the epic space battle and the final confrontation. Johnson also reveals two exclusive scenes, featuring Andy Serkis as Snoke prior to his digital makeover, as well as 14 never-before-seen deleted scenes, in addition to his audio commentary.
Star Wars: The Last Jedi will be in stores on March 27.