Prepare for "Cult of Chucky" in October
Fans of the world's most demonic doll are in for another blood-spattered treat as Chucky continues his reign of terror behind the locked doors of an insane asylum in Cult of Chucky, coming to Blu-ray and DVD in October, courtesy of Universal Pictures Home Entertainment.
Confined to an asylum for the criminally insane for the past four years, Nica (Fiona Dourif) is wrongly convinced that she, not Chucky, murdered her entire family. But when her psychiatrist introduces a new group-therapy tool — a "Good Guy" doll — a string of grisly deaths plague the asylum and Nica starts to wonder if maybe she isn't crazy after all. Andy (Alex Vincent), Chucky's now-grownup nemesis from the original Child's Play, races to Nica's aid. But to save her he'll have to get past Tiffany (Jennifer Tilly), Chucky's long-ago bride, who will do anything, no matter how deadly or depraved, to help her beloved devil doll.
Cult of Chucky will contain the feature film in a high definition presentation, but will also feature a number of bonus materials, such as a Commentary Track with Director and Writer Don Mancini, and Head Puppeteer Tony Gardner.
You will also find a series of Featurettes on the release, such as Inside the Insanity of Cult of Chucky , in which you will discover what it was like to film inside an insane asylum and the challenges production faced on set. You'll also hear from the cast and filmmakers as they discuss why they were attracted to this story and how the filmmakers' vision brought this fun-filled horror film together.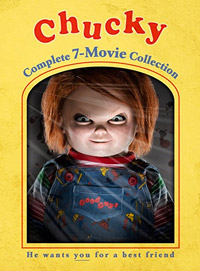 Good Guy Gone Bad: The Incarnations of Chucky offers a peek into Alterian's workshop, the studio behind Chucky's puppeteering, to see how the magic is created and focuses on how the look of Chucky has evolved over the years.
Cult of Chucky will arrive in stores on October 3 for $22.98 on Blu-Ray Disc and $19.98 on DVD.
Additionally, Chucky: Complete 7-Movie Collection is also available on Blu-ray for $59.98 and for $49.98 on DVD on October 3.  For the first time ever, experience all seven movies in one must-own set, including Child's Play, Child's Play 2, Child's Play 3, Bride of Chucky, Seed of Chucky, Curse of Chucky and the all-new Cult of Chucky.