"Dead Men Tell No Tales" will arrive in October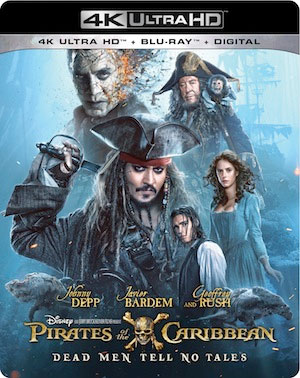 Walt Disney Home Entertainment has just added Pirates of the Caribbean: Dead Men Tell No Tales to its roster, bringing the latest entry in the franchise to 4K UHD, Blu-Ray Disc and DVD in early October.
The rip-roaring adventure—packed with humor, suspense and jaw-dropping special effects—finds down-on-his-luck Captain Jack (Johnny Depp) feeling the winds of ill fortune blowing strongly his way when deadly ghost sailors, led by the terrifying Captain Salazar (Javier Bardem), escape from the Devil's Triangle bent on killing every pirate at sea—notably Jack.
The 4K UHD and Blu-Ray versions of the release will be stuffed with bonus features, starting off with the Featurette The Making of a New Adventure giving you unique access into the making of this exciting new "Pirates of the Caribbean" movie with this collection of revealing and entertaining stories that you can view individually or as a "play all."
A Return to the Sea shows how two talented filmmakers, Joachim Rønning and Espen Sandberg, team up to bring "Pirates of the Caribbean" back to the screen. Hear how this new chapter of the tale was developed.
In Telling Tales: A Sit-down with Brenton & Kaya you get to meet Brenton Thwaites and Kaya Scodelario, the young actors behind Henry and Carina. The two sit down together for a revealing conversation on becoming a part of the "Pirates of the Caribbean" film franchise and its continuing legacy.
The Matador & The Bull: Secrets of Salazar & The Silent Mary gives Oscar-winner Javier Bardem the opportunity to reveal more about his menacing new character and the foreboding ship he helms, whereas First Mate Confidential takes you on-set along with Kevin McNally, the affable actor behind the feisty Mr. Gibbs, Captain Jack's reliable first mate from all five movies.
Deconstructing the Ghost Sharks lets you peer below the depths at how these ferocious, mythical monsters were designed and brought to life, while in Wings Over the Caribbean Captain Jack has a memorable encounter with Sir Paul McCartney – rock 'n' roll royalty.
An Enduring Legacy is also included, allowing you to take one more look at the "Pirates of the Caribbean: Dead Men Tell No Tales" experience and the impact of "Pirates of the Caribbean" — the movies, the ride and beyond.
The release also features Bloopers, a Jerry Bruckheimer Photo Diary, and Deleted Scenes.
"Pirates of the Caribbean: Dead Men Tell No Tales" will be in stores on October 3.