"The Lincoln Lawyer" comes to 4K UHD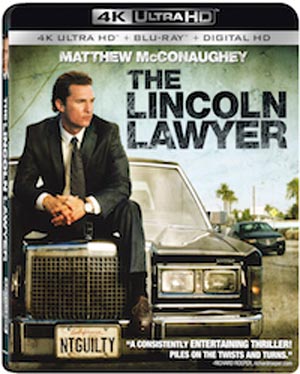 Lionsgate Home Entertainment has added a ultra high definition version of the thriller The Lincoln Lawyer to its release roster, scheduling a 4K UHD version for release in August.
Mickey Haller (Matthew McConaughey) is L.A.'s top criminal defense lawyer – a fast-living, freewheeling pro who does business out of the back seat of his classic Lincoln Town Car. He knows all the ins and outs of the legal system and how to exploit them to his clients' advantage. But after agreeing to defend a wealthy young man accused of rape and murder, Mickey suddenly finds himself embroiled in a deadly game of violence, vengeance, and deception that threatens to not only end his career, but also his life.
In addition to the feature film itself, the release will also offer up a number of bonus features, such as the Featurette Making the Case: Creating The Lincoln Lawyer. Also included is the Interview Featurette At Home on the Road with Michael Connelly, and the Interview Featurette One on One with Matthew McConaughey and Michael Connelly.
A handful of Deleted Scenes is rounding out the release.
The Lincoln Lawyer will arrive in stores on August 15 and can be yours on UHD for only $22.98!