Sony sends "Underworld" into the breach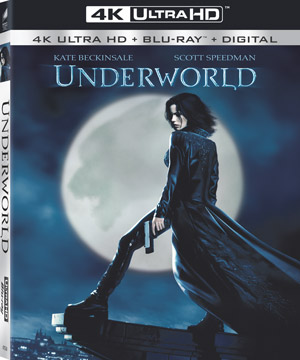 Sony Pictures Home Entertainment has added a silver bullet to its arsenal to lead 4K UHD to success by announcing the upcoming release of Underworld on the 4K ultra high definition format.
In the Underworld, vampires are a secret clan of modern aristocratic sophisticates whose mortal enemies are the Lycans (werewolves), a shrewd gang of street thugs who prowl the city's underbelly. No one knows the origin of their bitter blood feud, but the balance of power between them turns even bloodier when a beautiful young Vampire warrior and a newly-turned Lycan with a mysterious past fall in love.
Aside from the feature film, presented in a new 4K transfer with a Dolby Atmos audio track, the release will also contain all the bonus materials from the previously released Blu-Ray Disc version, including an Audio Commentary with director Len Wiseman, Kate Beckinsale, and Scott Speedman, along with Outtakes and a Storyboard Comparison.
Also included are Seven Featurettes and the Fang vs. Fiction feature, along with a Music Video.
The modern-day gothic horror film will arrive in stores on December 27.