"Hell or High Water" is making its way to Blu-Ray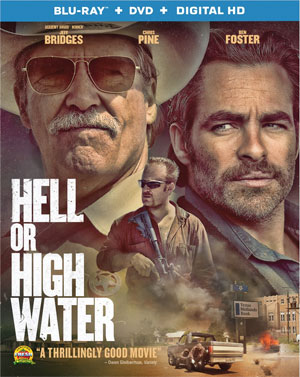 Lionsgate Home Entertainment has just added Hell or High Water to its release line-up, scheduling the heart-pounding thrill-ride for Blu-Ray Disc and DVD in November.
When a desperate father (Chris Pine) learns that the bank is going to take his family's land, he and his ex-con brother (Ben Foster) are left with no choice. They decide to rob the bank's branches, putting themselves in the crosshairs of an aging Texas Ranger (Jeff Bridges) in a riveting story of crime, punishment, and brotherly love.
This modern day Western will also include three Featurettes including "Enemies Forever" which provides an intimate look at the characters of the film, "Visualizing the Heart of America" which tells the story of the film's setting and how filmmakers utilized real locations to bring the story to life, and "Damaged Heroes" an exploration of the outstanding cast performances.
Further, you will find a Filmmaker Q&A on the release, as well as Exclusive Footage from the Hell or High Water premiere.
"Hell or High Water" will be available on November 22 with a $39.99 sticker price for the Blu-Ray version and a $29.95 price tag for the DVD release.