Do you have the "Nerve?" Find it in October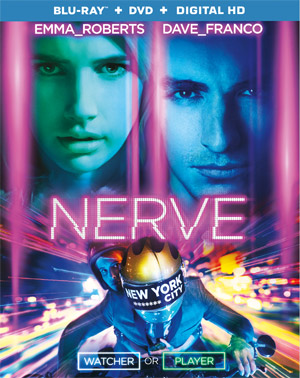 Lionsgate Home Entertainment has just added Nerve to its release roster, scheduling the suspense-filled romantic thriller for the Millennial generation for Blu-Ray Disc and DVD in later October.
Industrious high school senior Vee (Emma Roberts) is tired of living life on the sidelines. Pressured by friends to join the popular online game Nerve, Vee teams up with a sly and charming competitor (Dave Franco) for just one dare in what seems like harmless fun. But as Vee is caught up in the thrill of the adrenaline-fueled competition, the game takes a sinister turn with increasingly dangerous acts, leading Vee into a high-stakes finale that will determine her entire future.
The DVD version will include the movie, along with 15 Character Podcasts called "Creating Nerve", as well as Outtakes and "The Governor's Ball Takeover", covering social media stars in a game of dare played at the 2016 Governor's Ball in New York.
The Blu-Ray version will give viewers the unique opportunity to experience being either a Watcher or a Player. Upon launching the special features, viewers will choose their mode and either go behind the scenes with the same bonus features found on the DVD, or they will choose the interactive Player mode with an "Are You a Watcher or a Player" Interactive Quiz, the "Do You Have the Nerve?" Game, for viewers looking for more of an adrenaline rush and Player Profiles of the top six Nerve players.
The Blu-Ray version will also feature an immersive DTS:X Audio track.
"Nerve" will be in stores on October 25 for $39.99 as a Blu-Ray Combo pack and $29.95 for the DVD version.