"The Trust" is coming to home video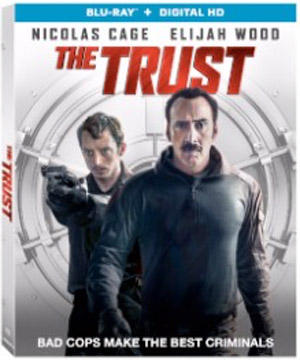 Lionsgate Home Entertainment has just added The Trust to its release schedule, preparing a Blu-Ray Disc and DVD version of the action-heist starring Nicolas Cage and Elijah Wood for release in early August.
Oscar® winner Nicolas Cage and Elijah Wood star as Vegas cops who stumble upon the location of a hidden vault belonging to local drug dealers. Immediately, they devise a master plan to make off with the mad stacks of cash they are sure are stored within. But what they find inside puts their lives in grave danger in this action-packed, twist-filled crime-thriller.
 
Aside from the feature film, the release will also include a number of bonus materials, such as a Commentary Track by Directors Alex and Benjamin Brewer.
In addition, you will find the Featurettes "The Dynamics of a Duo: Nicolas Cage and Elijah Wood" and "The Visuals of Vegas" on the release.
"The Trust" has been scheduled to make an appearance in stores on August 2 for $24.99 on Blu-Ray Disc and $19.98 on DVD.