"Lord of War" goes ultra high def in March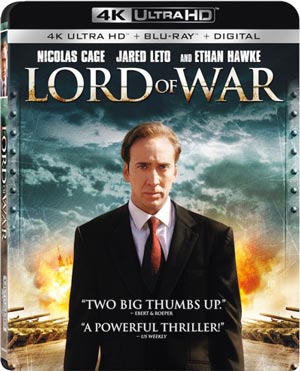 Lionsgate Home Entertainment has just added the 2005 thriller, Lord of War to its roster, bringing a 4K UHD version of the movie to stores in March.
For 20 years, gun runner Yuri Orlov (Nicolas Cage) has managed to stay ahead of the law as he supplied dictators around the world with their weapons. But is luck is running out… With federal agent Jack Lawrence (Ethan Hawke) hot on his heels, Orlov is trying to work out issues with his more ethically challenged younger brother, Vitaly (Jared Leto), while also pursuing the woman of his dreams, supermodel Ava Fontaine (Bridget Moynahan).
This 4K UHD release will also contain a Commentary Track by Writer-Director Andrew Niccol, as well as the Featurettes "The Making of Lord of War" and "Making a Killing: Inside the International Arms Trade".
A selection of Deleted Scenes rounds out the disc.
Lord of War arrives in store as a 4K UHD version on March 19 with a $22.99 price tag.