"Masters of Sex: Season Two" arrives in May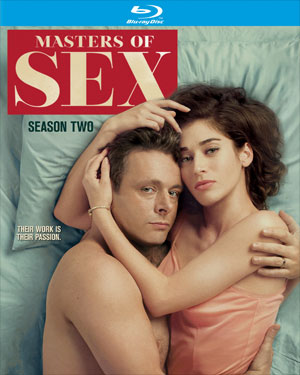 Sony Pictures Home Entertainment has just unveiled details about the upcoming release of Masters of Sex: Season Two, bringing the provocative television series to Blu-Ray Disc and DVD in May.
The show follows real-life pioneers, Dr. William Masters and Virginia Johnson, as they research the science of human sexuality. In season two, Michael Sheen returns as the brilliant and renowned fertility specialist Dr. William Masters, and Lizzy Caplan plays his invaluable assistant and lover, Virginia Johnson.
Having been dismissed by Maternity Hospital, Dr. William Masters (Michael Sheen) needs a place where he and Virginia Johnson (Lizzy Caplan) can resume their work. But thanks to their study's controversial topic – sex – they are forced out of two more hospitals before deciding to open their own clinic. With the seeds of the sexual revolution being sown and the simmering civil rights movement exploding around them, the intimate relationship they started under the guise of their research unravels as the result of Masters' sudden impotence. With the prospect of treating sexual dysfunction becoming increasingly important to their patients and themselves, at home Masters confronts his wife's growing disaffection and the unexpected return of his estranged brother, while Johnson faces a crisis of her own when the publicity surrounding their work places the custody of her two children in doubt.
The DVD version will also contain the Featurette "Making History", which serves as an exploration of the time period shift from the '50s to the '60s, including the introduction of Alcoholics Anonymous, diet pills and the start of the Civil Rights movement.
The Blu-Ray version will also include the featurette but will further as a number of Deleted Scenes to the release, along with "The Men of Sex", a cast roundtable featuring the men on what it means to be a "man" on this show, including Michael Sheen, Teddy Sears, Beau Bridges, Jocko Sims & Kevin Christy. Complementing the feature, the release will also include "The Women of Sex", a Featurette exploring the show's powerful team of women, both behind the scenes and in front of the camera. 
"Masters of Sex: Season Two" will be in stores on May 5 for $65.99 on Blu-Ray Disc and $55.99 on DVD.