5…4…3…2…1…Thunderbirds are GO! And on Blu-Ray, no less!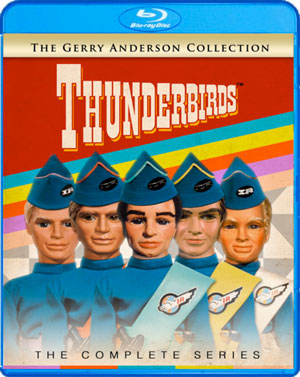 Timeless Media, a division of Shout! Factory has just revealed the upcoming release of the highly anticipated Gerry Anderson show Thunderbirds! The Complete Series on Blu-Ray Disc and DVD in June.
With its Atomic Age aesthetics and innovative production techniques, Thunderbirds has made an indelible impact on pop culture, cherished by legions of fans and influencing science fiction and animation for decades. The crown jewel of Gerry Anderson's visionary creative oeuvre, Supermarionation, Thunderbirds: The Complete Series joins the Stingray, Captain Scarlet and the Mysterons, Fireball XL5, Joe 90 and Supercar in this show.
Leap into the stratosphere of fun and excitement with Thunderbirds: The Complete Series! Operating from a top-secret island base in the year 2065, the Thunderbirds team at International Rescue- intrepid Jeff Tracy and his valiant sons Scott, John, Virgil, Gordon, and Adam- engage in a humanitarian crusade to protect the innocent. Traveling via land, sea, air, and space in their fantastically advanced vehicles, the Tracys take on the most impossible of missions with courage, honor and their greatest strength of all: the power of family.
Featuring all 32 episodes of the popular science-fiction series, the release will be available as a 6-disc Blu-Ray set and as an 8-disc DVD Set. Especially the Blu-Ray version shoudl be exciting for fans, as it is the first time the show will be available in the US in high definition, and the release promises to feature a re-mastered high-definition transfer that showcases the Supermarionation technique in exquisite detail never before seen.
As an extra, the release also contains the Documentary "Launching Thunderbirds", as well as a Vintage Thunderbirds Publicity Brochure, which will be accessible as a BD-ROM and DVD-ROM feature only.
"Thunderbirds! The Complete Series" will arrive on June· for $69.97 on Blu-Ray Disc and $49.97 on DVD.