See the incredible true story of "50 To 1" on Blu-Ray or DVD in April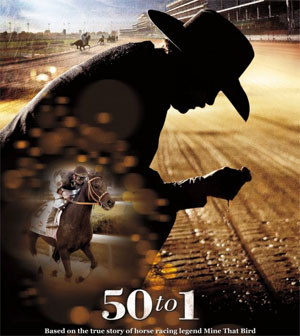 Sony Pictures Home Entertainment added the incredible true story of Mine That Bird—the longshot racehorse who, to everyone's surprise, won the 2009 Kentucky Derby—to its release roster, by scheduling 50 To 1 on Blu-Ray Disc and DVD in April.
A misfit group of New Mexico cowboys find themselves on the journey of a lifetime when their crooked-footed racehorse qualifies for the Kentucky Derby. Based on the inspiring true story of Mine That Bird, the cowboys face a series of mishaps on their way to Churchill Downs, becoming the ultimate underdogs in a final showdown with the world's racing elite. Skeet Ulrich stars as Chip Woolley, Mine That Bird's trainer, and Christian Kane stars as Mark Allen, the horse's owner.  Appearing as himself is Hall of Fame jockey Calvin Borel, who guided Mine That Bird along the rail to pass 18 horses in 20+ seconds for his astonishing win.
Aside form the film itself, the release will also contain the Featurette "The Making of 50 To 1" as well as a Blooper Reel.
You can witness the inspiring and humorous account of real American cowboys and the series of seemingly insurmountable challenges they encountered in "50 To 1" when the film arrives in store on April 28.