Want to give in to your "Vice?" In March, you can.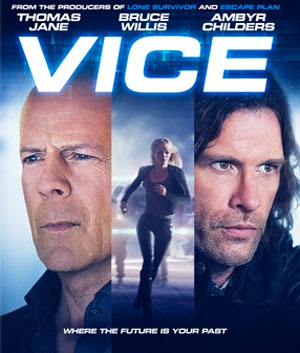 Lionsgate Home Entertainment has just unveiled details about the upcoming release of Vice, a futuristic, action-packed, sci-fi thriller slated for release on Blu-Ray Disc and DVD in March.
Julian Michaels (Bruce Willis) has designed the ultimate resort: Vice, where anything goes, and the customers can play out their wildest fantasies with artificial inhabitants who look, think and feel like humans. When an artificial (Ambyr Childers) becomes self-aware and escapes, she finds herself caught in the crossfire between Julian's mercenaries and a cop (Thomas Jane) who is hell-bent on shutting down Vice, and stopping the violence once and for all.
"Vice" will feature the movie itself as well as a Commentary Track with Director Brian A. Miller and Actors Ambyr Childers and Bryan Greenberg. In addition, the release will include the Featurette "Behind the Scenes of Vice" as well as Cast and Crew Interviews.
"Vice" will be available on March 17 for $24.99 on Blu-Ray Disc and $19.98 on DVD.