Shout! Factory gives us "Stigmata" in high definition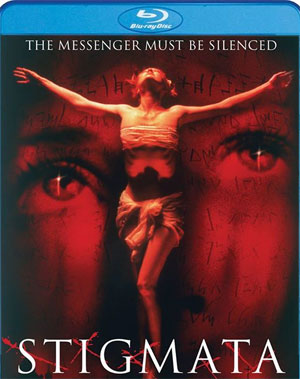 While details are still scarce, we have just learmed that Shout! Factory is preparing to release the 1999 MGM production Stigmata for release on Blu-Ray Disc in May under their Scream Factory label.
Frankie Paige (Patricia Arquette) has absolutely no faith in God. All of that changes when she suddenly begins to suffer the Stigmata – the living wounds of the crucified Christ. Frankie's miraculous bleeding comes to the attention of the Vatican's top investigator, Father Kiernan (Gabriel Byrne). But when Cardinal Houseman (Jonathan Pryce), discovers that Frankie is actually channeling an extraordinary and provacative message that could destroy the Church, he's convinced that she – and the force possessing her – must be forever silenced. Determined to stop this deadly conspiracy, Kiernan risks his faith – and his life – to save her and the message that will change the destiny of mankind forever.
Shout! Factory has not yet finalized the exact specs and contents for the title, but they have suggested that the new Blu-Ray release will incorporate the majority of the bonus features that were found on the original DVD release in 2000. In addition, the studio hopes to be able to offer additional, new bonus materials to accompany the release.
"Stigmata" has been tentatively scheduled for release on May 12. We will keep you posted once final details about the release will emerge. If you are not familiar with the film, you may want to take note.