Nightbreed: The Director's Cut

Nightbreed: The Director's Cut (1990)
Shout! Factory
Cast: Craig Sheffer, Anne Bobby, David Cronenberg, Charles Haid, Doug Bradley
Extras: Introduction, Director's Cut, Featurettes, Theatrical Trailer
Rating: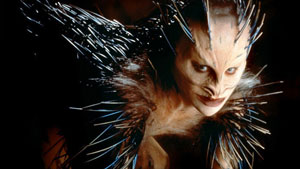 For some reason horror fans have almost uniformly dismissed Clive Barker's "Nightbreed" when it was first released in 1990. Based on his own novel "Cabal, " Barker wrote and directed "Nightbreed, " bringing to life a whole society of nightmarish creatures. While I am the first to admit that it was not a perfect movie, I always disagreed with the common notion of it being a bad film. But even Barker himself often touched upon the fact that the studio interfered with his original vision for the movie and recut the film, never allowing the film he had wanted to make to appear from the rubble.
Fast forward almost 25 years, and here we are, for the first time holding in our hands the Director's Cut of "Nightbreed" at long last. After digging for the lost film footage, restoring it and then re-editing the film, Clive Barker and his collaborator Mark Allan Miller are finally able to present "Nightbreed" the way it had always been intended. A fully realized film that shows its full potential, offering up 40 minutes of additional footage. And with Shout! Factory as the publisher at the helm, the release also offers up a solid mix of bonus materials.
A stalker is on the loose, killing entire families in cold blood, slashing and mutilating them in unprecedented, horrific acts of violence. At the same time, Aaron Boone (Craig Sheffer) has horrifying nightmares about violent crimes and Midian, an abandoned cemetery, a place of redemption, where monster live. Boone talks to his therapist Dr. Decker (David Cronenberg) about these dreams, it turns out that the events Boone witnesses in his nightmares are actually the murders committed by the stalker. Making the obvious connection, Decker turns Boone into the police as a possible suspect, but Boone manages to escape and flees to find Midian.
?But instead of finding peace and solace there, he is attacked by strange demonic creatures and on the run yet again, a police force is already awaiting him at the gates of Midian. Before he knows what is happening, Boone is shot dead!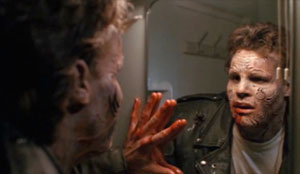 ?But Boone is somehow resurrected as some kind of a twilight creature. Dead, yet not dead. The result of a bite wound one of Midian's inhabitants inflicted upon him. Tied to these creatures of the night in death now, Boone returns to Midian where he becomes part of an underground culture of outcast creatures – the Nightbreed. They are the denizens of a world beyond death and Boone uses his sudden undead-status to find out what really happened!
"Nightbreed" does contain some of Clive Barker's cold and gruesome horror elements, most notably in the masked stalker scenes. However, as you can see from the synopsis of the film, the stalker theme quickly takes the backseat over more important plot elements, the society of creatures living underneath Midian. With the introduction of this secret society made up of outcasts, the entire tone of the film changes. The screen is suddenly awash in earthen colors and has a much more gothic feel to it than the stark imagery surrounding the stalker. The film's theme also changes and "Nightbreed" turns into an advocacy of minorities—something Clive Barker knows a thing or two about as a result of his own homosexuality. The parable is uncanny as the outcast are subject to superstition, prejudice and ultimately pursuit on a large scale as bigot citizens feel they have the right and duty to "clean up" what they don't understand. Human nature? Maybe, but frankly, I see it more as a sign of intolerance and ignorance in our society, traits that are far too widespread.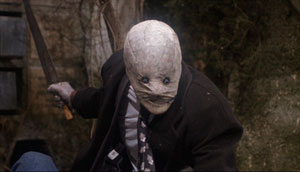 The film is full of subtext—subtle and not-so-subtle—and the menagerie of creatures is breathtaking, showing how vivid Clive Barker's imagination can be when let loose on the right material. Many of Barker's archetypical themes return, such as the Baphomet entity/deity, which in one way or another can also found in countless others of his films and books, including the "Hellraiser" series, giving it a unique Clive Barker touch. Full of dramatic imagery, ranging from cold modern-day shot, to very Hammer-esque atmospheric scenes with the shrouded gothic cemetery, "Nightbreed" is a visual feast that in some aspects eclipses even Barker's highly acclaimed "Hellraiser." Not so gory, but nonetheless brutally unsettling at times, "Nightbreed" shows off Barker's talents as a writer, director and foremost as a visionary.
All of this is underscored even more by this new Director's Cut that is presented on this disc. At long last, the film has a real sense of cohesion, something it lacked before. The story is well-rounded now, without awkward jumps and lapses, and the story develops in a proper arch, building to a big third act. Finally, the character motivations are fleshed out properly and characters no longer seem to make unfathomable ad hoc decisions. Mind you, though, if you expect "Nightbreed" to be an entirely different movie, you may be disappointed. In terms of the overall plot nothing has changed and all the key elements are still there, it is just how the story is being told is more balanced, more dramatic and a whole lot more effective. It proves, I think, that Clive Barker was right all along with his original vision, and the studio did indeed butcher his film, taking much of the spark out of it that this story needs to live and breathe.
Shout! Factory is presenting "Nightbreed" under it Scream Factory label, in a transfer that is beautifully clean and free of defects. Even the re-discovered footage blends in perfectly with the rest of the film, making it a presentation that is perfectly balanced throughout. Sharp edges and incredible image detail define the presentation, making this film look surprisingly fresh and modern. The colors are superbly delineated, bringing Clive Barker's vision to life with spectacular vibrancy as the hues and shades of color define the image.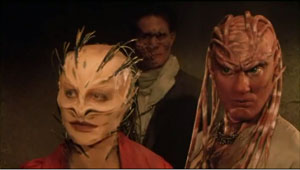 Shot mostly on sound stages, Barker controlled every little bit of the picture and worked diligently to create an intricate world full of subtle visual highlights and elements that could easily get lost in a shoddy transfer. Fortunately, with this splendid high definition transfer, it is all kept intact and shines in its full glory in every single frame.
The movie is accompanied by a DTS 5.1 HD Master Audio track that is aggressive and highly effective. The action scenes are bustling with surround effects, while the more somber moments are full of ambiance, particularly in Midian's underworld, to create a breathing atmosphere that serves as the film's lifeblood. The track has a wide dynamic range, nicely capturing the subtle moments of the film while giving to the explosive scenes very strong exposure. With a wide frequency response, the track is never distorted and finely reproduces the high ends, as well as the rumble of the movie's earthshaking climax. Dialogues are well-integrated and always understandable, never drowned out by Danny Elfman's haunting score or the aggressive sound effects.
Spearheading all the extra on the disc is a 5-minute introduction by Clive Barker and Mark Miller, in which they talk about the journey that took them to this moment in time. Spawned by the fans' outcry and desire to see Barker's original vision, they set about to uncover the lost footage and then went about reassembling the film the way Barker had intended, and in this introduction they talk about the various steps it took to make this Director's Cut a reality.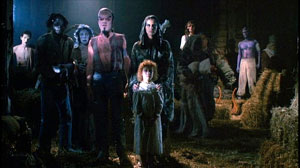 In addition, the release is filled with new interviews, featuring cast and crew members in the featurette "Tribes of the Moon," as they discuss the making of the film and the way it has influenced their careers.
Naturally, the release also includes a featurette on the countless creatures witnessed in the film and the special make-up effects that were necessary to bring this bizarre menagerie to the screen. "Making Monsters" is its title and over the course of 42 minutes it presents you with candid behind the scenes shots and photographs, along with interviews with the visual effects artists working on these creations.
"Fire! Fights! Stunts!" is a 20-minute featurette that discusses the work of the second unit on "Nightbreed," who was responsible for the creation of the fire effects and virtually all of the action and stunt work seen in the film.
The release is rounded out by the movie's original theatrical trailer.
For fans of "Nightbreed," this disc is clearly a no-brainer. Everyone who's ever taken pleasure in the movie will want to see the director's original vision brought to fruition at last. But even casual viewers, or those who dismissed the film before may want to take note, because as I pointed out before, "Nightbreed" is a much more rounded film now that shows Clive Barkers real intentions and storytelling chops.
The presentation on this release is simply marvelous, leaving absolutely nothing to be desired, so make sure to check out this release today because there simply is no better treatment of the film available anywhere!