Michelle Yeoh: Superstar Without the Attitude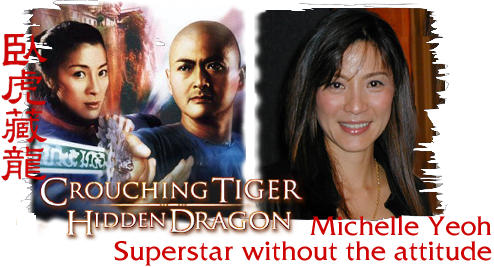 For many years, Michelle Yeoh has been a superstar in Hong Kong cinema, kicking and punching her way through memorable movies that have helped establish female characters as strong leads. After being voted "Miss Malaysia" in 1983, Michelle took her first shot at the moving pictures in a commercial next to Jackie Chan. This led to her 1984 role in "The Owl And Bumbo," a film that was directed by long-time Jackie Chan collaborator Sammo Hung.
Michelle has worked with everyone who has a name in Hong Kong cinema, from Jackie Chan, Sammo Hung, Tsui Hark, Andy Lau, Richard Ng, Anthony Wong, Anita Mui and Maggie Cheung to name only a few. Her rise to stardom was fast and stellar and although she had removed herself from her career and the public eye in 1994, she celebrated a spectacular international comeback in 1997 as the heroine Wai-Lin in the James Bond movie "Tomorrow Never Dies."
Nonetheless, all the success has kept Michelle Yeoh humble, which is immediately noticeable when she entered the room for this interview. With a determined handshake, she introduces herself with the words, "Hi, I'm Michelle" taking down all barriers and inhibitions one may have. And yet, a very strong charismatic aura surrounds Michelle Yeoh as she takes a seat opposite of me to talk about her latest success story, "Crouching Tiger, Hidden Dragon."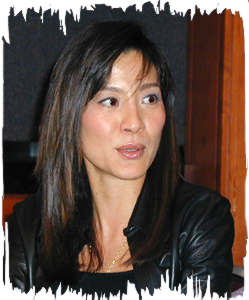 "Crouching Tiger, Hidden Dragon was a very challenging movie," she opens our conversation. "Both, physically and mentally. For me the martial arts side was the easy part, because I have had quite a few years of experience and I am always in training and also prior to starting the movie I knew what direction Ang Lee was going and what form that he wants to do it in. I wasn't so worried about all that, also because I have worked with him before, and I know all the stunt people that were involved very, very well."
To Michelle it is very important to be comfortable with the people she works with, especially given the grade of danger she is putting herself into with the various martial arts and stunt sequences. "Trust is very important when it comes to making these films, because literally your life is in the stunt people's hands especially when your 50 or 60 feet in the air, running around like that."
The real challenge for Michelle turns out to be one most viewers would not even guess  the language barrier. "The most challenging part for me this time was the language," she remembers. "I was doing this film in a language that I couldn't read, and couldn't speak—Mandarin."
I really had to learn Mandarin from scratch. First I had to learn how to write the language phonetically and then discovered that this language has only four very specific tones and when you don't hit the right tone you are saying something completely different
Since most films in Hong Kong are shot in Cantonese, being involved in a production that is created in director Ang Lee's native Mandarin, required quite a bit a additional training for the actress. "I really had to learn Mandarin from scratch," she laughs. "I was going to Beijing about 3-3 ½ months prior to shooting, where I had a dialog coach. First I had to learn how to write the language phonetically and then discovered that this language has only four very specific tones and when you don't hit the right tone you are saying something completely different.  So that for me was, to start off with, a big hurdle."
The story of "Crouching Tiger, Hidden Dragon" is based on a series of famous Chinese novels and once again, the language barrier imposed a problem on Michelle. "As you know this story has been taken from the fourth volume of five novels.  Not having had the privilege of reading all of them, I really didn't know who this character was that I was playing, and what her background was.  Fortunately, Ang Lee is a wonderful storyteller and we can see that from all his films.  Sometimes we spent hours together, where he helped me understand what went on before this story came about and who these character were.  So it was… very, very time consuming in a sense."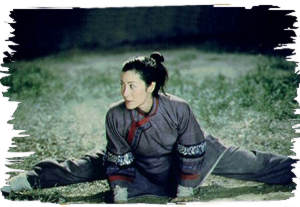 Since "The Matrix" hit theaters two years ago, Martial Arts Cinema has seen a renaissance in the US like never before. Strangely enough, though, it appears as if the real Martial Arts films are still overlooked and only domestic imitators get all the attention. Nonetheless, a lot more attention is paid to the Hong Kong originals these days and many films suddenly see the light of day through major distribution here in the US. Is it a fad or a true appreciation of a film culture that is substantially different from Hollywood templates??
"It is finally our turn!" Michelle laughs. "I think that Asian talent has been there for a very long time, and I don't think that it happened overnight.  It is probably the same as with the fashion and music.  It just goes around the world America, Europe, and now it is Asia.  It sort of takes a journey and it is wonderful for us to have had that recognition and to have our work appreciated.  Now with this happening, you will see more and more of it.  It just needed that first initial opening and people have been working really hard to get there."
In Asia I have been doing that for the last 15 years… kicking ass… especially guys'. ??And it is fun!
With the increased interest in Martial Arts films, suddenly comes a change in female roles in these movies, parts in which women take down the men. It is a stylistic element that had been practically unheard of in Hollywood cinema, but suddenly defines the landscape of contemporary films.
"To me, this is not something new," Michelle remarks.  "In Asia I have been doing that for the last 15 years… kicking ass… especially guys'.  And it is fun, to fight with them.  It is weird, guys get very intimidated by strong women, but I think once it is out there, I don't know why it is that people find it so revolutionary to have such strong individual kick-ass girls.  If you look around you have women do kick-boxing right now.  I don't think they do it to be aggressive.  I think it also depends on something that they do to protect themselves.  But you're right, there is much more of this recently, so obviously even the guys enjoy it."
The question remains, though, whether this is truly a feminist trend or whether it is just another excuse for guys to watch beautiful girls to move around. Michelle has her own view on that. "Maybe it is both," she says. "What's wrong with that, right? For our sake, when we did this movie or when I do my movies, it is not about it being a feminist statement.  We do these movies because we think it is a reflection, and it can be done, and it can be done very beautifully as well.  Suddenly the guys enjoy it because it is a different form of movement, whereby when the girls do it, it is kind of sexy. I remember when we started working on "Tomorrow Never Dies" and we did our first stunts, Pierce Brosnan came to the set to watch us do our Martial Arts stuff, because he had never seen it before.  And guess what? His first reaction was, This is incredibly sexy…"
During the production of the film, rumors were abound that Michelle suffered from a serious injury, a rumor confirms as we speak. "Unfortunately it wasn't a rumor.  It really happened.  It happened after the first day. It was a small scene at the end of the day. I think when you do a big scene, you are normally more cautious and more careful, but here…  I was doing a kick.  A jump-kick that I normally do maybe 30-40 times a day.  The problem is that the risk of accidents is always higher in an action film. There are all these different elements that you are working with or working against.  It was one of those things—I jumped up and kicked.  I wasn't supposed to have my leg on top of my partner's and it happened there.  But, I was moving on to my next step.  The next thing I knew, it felt like someone had clubbed my knee and I was on the ground. I was shocked, I was all " Who kicked me?" But there were only the two of us fighting.  It felt like someone had rammed his leg into my joints. So first, you go into straight self-denial.  No, nothing is wrong. Probably just a stretched ligament. I'll be fine after a few days.  But you know, there's something wrong when you turn right and your leg turns left, " she points out with a hearty laugh.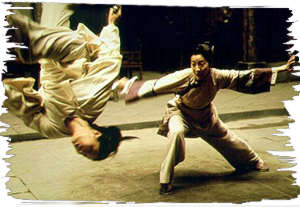 ?"It is not going the same direction as you want it to go.  Fortunately I had set up a photo shoot out here, actually in New York, so I went to John Hopkins had the MRI done and was told that the ligament was flat on it backs, basically.  The only option was surgery.  If I didn't have surgery at that moment they could bind up my leg.  But that meant that there was no running, there was no jumping.  Basically just being very calm, sitting down.  What my doctor said to me was, if you go into surgery now and you have intense rehab, there is a good chance of you going back into how good you were, provided that there are no complications. Professional football players and basketball players can go back into a game in 3-3 ½ months.  But that sheer torture and hell, those few months…  So I called up Ang and said I really have bad news, because this is what happened.  The blessing was I only had two fighting sequences in the whole movie, one at the beginning and the fight at the end.  Ang said, "I will do, because your health is the most important thing.  We will work around it."  He then shifted the whole shooting schedule and moved that particular scene right until the last ten days of the shoot.  So the set you see in the movie, is now a set piece, where it could have been shot on location. But because I had to do the surgery they had to reconstruct the whole thing back in the Beijing studios.  It was very traumatic."
The problem is finding a role, a good role written for a woman, a strong woman. That seems to be the hardest part.
With the success of her appearance in "Tomorrow Never Dies," most fans hoped to see more of Michelle in American movies, but after the production in became conspicuously quiet, leaving many fans wondering, what happened? Did Michelle miss the opportunity of a lifetime here??
"I think what it is, is that my agents and I always go down the path, checking what it is that a script does for me.  They understand that I am not going to do a project, just for the sake of working.  I was always thinking to myself, "You have had such a great opportunity to come into the American market with a movie like Bond.  You have established yourself, especially for the Asian women, and women in general, so the next project should be comparable to James Bond.  You know, something that allows me to physically and mentally to be put in that level.  We didn't want to step backwards and just do any movie that came our way.  We were very specific about that.  Yes, we had to turn down a number of opportunities to work, but I think it was a good choice."
Nonetheless, Michelle is well aware of the competition in the field and the fact that it is not always easy for Asian actors to find work in Hollywood, despite their stardom in overseas markets.
?"I think that in general actors and actresses do find it difficult to succeed in the American movie industry, because it is very competitive and yes, because I am an Asian face.  I think in previous years there was a bit of a mentally where people do sit back and they go "How do we fit an Asian face in there?"  These days it is a lot better because if you look around this society you see Asian faces, Americans and others all over the place.  The problem is finding a role, a good role written for a woman, a strong woman.  That seems to be the hardest part and that is what we are working at."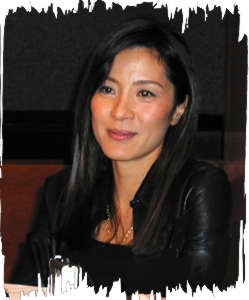 Michelle had long been a candidate for future projects on director Ang Lee's wish list. "We talked about this project some time ago already, " she remembers, "but at the time I was very swamped, doing the publicity tour for James Bond, while Ang was just starting to write like the devil.  He had met up with me and he said, "I want this to be Sense and Sensibility with Martial Arts and I want you to be in my film."  I was like, "Yes, when?  Can we start to tomorrow? " So that was already an incentive for me to wait, because I truly believe this role that I have in "Crouching Tiger, Hidden Dragon" doesn't just re-established myself as an action actress, but it gives me the dimension of acting that I was looking for  and I truly believe action films need that.  Action is nothing, it is just very lenient, very superficial without the dramatic value to it.  Whereas with Ang Lee, I knew that he could bring that harmony, that balance to a movie, where one didn't overwhelm the other.  Usually, when you walk into an action film, you have big explosions in the first five minutes and ten minutes later another smaller one.  Then it goes along on that formula, but fortunately, Ang doesn't stick to that.
We used different locations in the movie, from the Gobi desert, where it was one hundred degrees, and then finally ended up in Beijing where it was minus thirteen degrees, where you couldn't even speak because your face was frozen solid.
Unlike most Chinese movies, "Crouching Tiger, Hidden Dragon" was shot in mainland China rather than in Hong Kong—a country that imposes its own problems on film productions. "Fortunately I had worked in China before," Michelle ponders, "and it has definitely improved over the years.  When we first started filming out there a few years ago the conditions were much rougher.  Its not that the conditions were perfect when we made "Crouching Tiger, Hidden Dragon," but the landscape is just unique and offers everything.  We used different locations in the movie, from the Gobi desert, where it was one hundred degrees, and then finally ended up in Beijing where it was minus thirteen degrees, where you couldn't even speak because your face was frozen solid.  Every part of it had something that challenged me and the rest of the crew, but the beauty of it and the fact that everybody was so passionate about this film, somehow made it okay.  It was fine.  It was tough.  It was rough.  Everyday we might have a new problem, was it such that anyone wanted to give up?  No!  For me, when I tore my knee ligament I could have sat back and say, "This is much more important than making this movie." Or the other way around, the team could have said, "We want you, but we can't wait for you."  There were so many elements that could have happened, but they didn't and we got through it, finishing this film.
Getting financial backing of a major Hollywood studio for a foreign film, such as "Crouching Tiger, Hidden Dragon" is a very unique scenario. While there has been a revolution, allowing more and more Asian actors to find recognition in the American mainstream, one begins to wonder if maybe, the star power of Ang Lee, Michelle Yeoh and Chow Yun-Fat helped get this project off the ground.
?"I think that was a train of thought," Michelle agrees. "Only a few years ago someone may just have made a straight Martial Arts film.  But, how does it cross over to this foreign land, in which people don't know what goes on out in China?  "How do we make that cross over?" that was on our minds.  Yes, Ang Lee's reputation in Hollywood helped immensely. He has the clout, he has the ability that studios will trust him that it's going to be a foreign film that introduces a completely new culture to the American audience.  Then yes, it was more appealing to them because Michelle Yeoh and Chow Yun-Fat are in it.  It has made it easier for us in that sense to bring the project together.  But the challenges were definitely there, because we grew up with this stuff.  We know Martial Arts so well.  We see it on TV every day, and read it in books, and we see it in feature films out there.  So we decided not to stick to the conventional way of making this genre of film.  Ang brought in his artistry as a storyteller to help balance the Martial Arts, which is necessary for this kind of movie—and it is not easy.  I think if he would have done this film the conventional way, the audiences outside of Asia would not be able to handle it so quickly.  You would sit down there and in the first two minutes you see these people climbing up walls, and you would ask yourself, "How? What happened?" And on the other hand lead you into this world we know so well very gently.  He strengthens your mind with the background, telling you about the philosophy, why these warriors have spent their entire lives sacrificing their personal lives and everything, to attain what they call the enlightenment, which enables them to defy gravity.  That they can, that they are gifted and able to do these kinds of art forms."
"It was challenging on both areas to find that balance to keep the integrity of this kind of Martial Arts film," she remembers.  "At the beginning of the project, the studios would turn to us and demand to shoot this film in English.  But can you imagine what it would feel like if we were standing on the rooftops and saying, "Halt! Who goes there?"  You know the whole movie just loses it.  It doesn't have that special extra.  The way we ultimately filmed in Mandarin, and the way that it is brought to you, you feel the movement.  Rather than just having to sit there and listen to the dialog and see the subtitling, the visual and cinematic values are incredible.  Ang Lee and cinematographer Peter Pau have brought to you the color and vastness of China in that way.  The miracle dramatized and then extending onto that the validity of Martial Arts as well.  So in that way, we put together the best of all elements, and that made this film work.
Michelle Yeoh's career is steadily going forward despite the time-outs she deliberately takes to make room for her family. She is known as a humorous action powerhouse to her fans who can't see enough of her spectacular agility. And although action films are her true love, Michelle sometimes wonders what it would be like to do different genres.
?"I think of it everyday.  Romantic Comedy. Drama.  Things like that.  Am I ever going to give up action films? No.  I really love it.  Also now I am physically able to do it.  Maybe eight years down the road I will say, "No I don't think so.  I don't want to climb up on that ladder anymore."  So now that I can I truly enjoy it, I do it.  It is just finding the right action film that balances it out with a good character or good drama.  Whether it is a comedy, whether its hard-boiled action, it always needs that—you need that.  You need that suspense, that thrill.  You need to have your audience love that character.  That is makes it exciting.  Yes, in the long run, I want to be able to do more romantic roles, comedies, and dramas and all that.  As an actress, I would most definitely prefer to be more round in that sense."
In order to expand her horizon, late last year, Michelle started her own production company called "Mythical Films." "I live in Hong Kong," she explains animatedly, "and therefore I located the company in Hong Kong as well. It is a partnership with Media Asia, a very established production and distribution company in Hong Kong.  I have been thinking of ways to extend my career and in this industry.  I truly love what I do.  With a production company I don't intend to be a director, I want to be a teacher.  With Mythical Films, apart from doing films for myself, what we are also doing is starting to set up a fund for young directors and young scriptwriters.  This is something that we noticed and can see in Asian films that the pre-production, the script and all of that have been lacking.  It has never been the important thing, but I truly believe in that approach.  A proper script that you can work with and of course a brilliant director, and all the elements come together.  So with Mythical Films, that is what we are doing.  Many people think I do this so I get to do films that I want to do, but to be honest, this is a great chance for me to sit back and say what ideas have you got about me, that you think that I can do.  With new directors and young scriptwriters that is when they are getting really creative, and their passion is really high.  They have not been conformed into thinking of how it should be done and I really want to be able to maximize on that.  Fifteen years ago I was given an opportunity to start in this industry.  I think that right now I am at a pretty privileged position where I think that I can give something back to where I started from," she confides humbly.
Apart from Mythical Films, Michelle is also pursuing more Hollywood productions, however, to establish herself further in this market. But as before she stays true to her credo, substance over matter.
?"Everybody's very excited of course, because "Crouching Tiger, Hidden Dragon" is such a successful movie. My agent and I have been getting a lot of scripts.  I think when I find the time to read all of them, then I will know what my next project will be.  There are two very specific ones, though, that have been in development for some time.  One with Buena Vista and MGM called Mint Condition, and another one with Sony, called Executive Protector, that was originally written for me.
Michelle Yeoh is clearly one of the most personable superstars around and on many occasions during this interview she was able to make it clear that she feels that her success is that of hard work and full commitment, things that do not come easily. It is also obvious that she loves her fans for they make her what she is, an icon in action cinema. Before we ended this interview, she offered some advice to all aspiring actors and actresses out there, facing the odds.
"You have to be very educated in what you do.  I think that filmmaking and being an actress is not something that you just fall into and think that it will happen.  If the opportunity comes and you are not prepared, the opportunity goes away.  Nowadays you have big schools, NYU and UCLA where there are so many varied courses in all the different arenas where you can find out how to improve yourself.  Be prepared!"