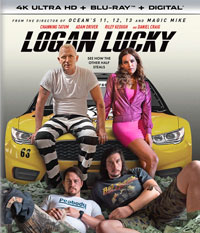 Logan Lucky (2017)
Universal Home Video
Cast: Channing Tatum, Adam Driver, Daniel Craig, Katie Holmes
Extras: Deletes Scenes
Rating: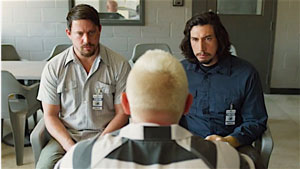 Steven Soderbergh is a truly intriguing director, in part because the gamut of his works spans everything from comedies to political documentaries, with literally anything in between. Few directors manage to successfully walk the line that Soderbergh seems to define so easily. With Logan Lucky, he returns to the heist genre once again, delivering a movie that truly reminds us of the remarkable way he handles these films.
After losing his job as a tunneling construction worker, Jimmy Logan (Channing Tatum) and his brother Clyde (Adam Driver) decide to pull off a heist at the local Nascar race track. Using the construction site below the race track, they plan to gain access to the vault on one of the slower race days where security is low and steal some money.
Because the brothers haven't exactly eaten wisdom with spoons, they are a bit out of their depth an decide to hire local help, more specifically, demolition expert Joe Bang (Daniel Craig). The only problem is, Bang is in prison at the time of the heist, so the first order of business is to break him out… but more so, in a way that no one notices.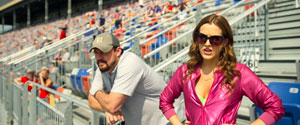 Turns out, Jimmy's actually not as crazy as everyone believes and he puts into motion a plan that could actually work, were it not for a small snag. The construction site is shutting down and the only way to pull off the heist is during one of Nascar's greatest racing days only days away. Armed with only a half-baked plan and plenty of bravado, the team is determined to make the most of it and go to work.
Once again Soderbergh delivers a tour de force in which he performs a sleight of hand at every possible opportunity. Just like in his glorious Ocean's Eleven films, his storytelling cut up in such a way that it creates the illusion of continuity while, in fact, relying on a kind of deception to lead the viewer. To put it bluntly, in Logan Lucky, nothing is what it may seem, and that's part of the fun.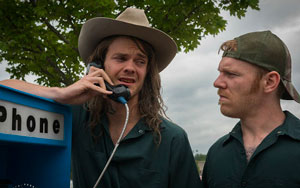 The other part of the winning formula are the characters. Relying heavily and very effectively on certain stereotypes, the movie presents us with figures that are entertaining caricatures that appear dim on the surface but have a lot less mush in their heads than you'd initially expect. From a one-armed bandit to Daniel Craig's marvelous southern twang, the film is filled with little gems that make the movie more than just enjoyable. It makes it exhilarating, especially as unforeseen events being to pile up and the plot takes one turn for the worse after another.
Channing Tatum is great as the "big brother" who tries to run the show and desperately convince his little brother to come onboard the harebrained scheme. Tatum wonderfully underplays the part which makes the important moments when we realize that the brothers actually do have an incredible bond and are perfectly synced up, all the more poignant. Adam Driver is the perfect counterpart and the two truly conjure up moments of Brad Pitt and Matt Damon brilliance from Ocean's Eleven.
Daniel Craig is simply a riot. Not only because of his accent, but also his appearance and the way he pulls off this character are absolutely mesmerizing. He's a bad guy, bad-mannered, kind of an ass, but likable nonetheless. We constantly root for him, even when he drags along his dimwitted brothers for the ride. There is a charm and elegance to the character that belies his appearance and it also results in pure comedy brilliance, like the moment when he explains his bomb to the dumbfounded Logan brothers.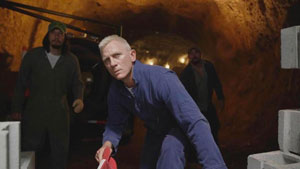 The thing I truly love about Soderbergh's heist movies is that they are thrilling and exciting and always full of twists and diversions. What makes them the perfect viewing experience is the added sense of humor. It's hardly ever laugh-out-loud funny, but small situational moments that are hilarious in their own way, or they are small bis of dialogue that are just incredibly witty or sly.
Universal Pictures Home Entertainment is delivering a blistering 4K UHD version of Logan Lucky with this release, that heaps even more entertainment value upon the film, as its presentation is simply splendid. Offering up an image that is incredibly crisp, the transfer is absolutely clean and revels in detail. Even the most sublime textures are perfectly reproduced with perfect definition and colors that leap off the screen. Add to it the HDR-enhanced contrast and the transfer's super-deep blacks and you get one of the greatest looking UHD releases out there.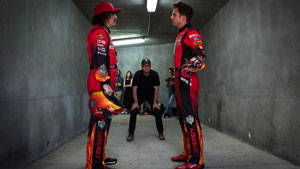 It is complemented by an aggressive 5.1 DTS-HD Master Audio track that is filling the room with its wide surround stage. The track's bass extension is solid but remains balanced at all times. The high end of the frequency spectrum is clear and transparent, without distortion or sibilance. Dialogues are perfectly integrated and balanced making sure that the sound effects and music work to best effect without ever drowning out the spoken lines.
The only slight disappointment of this release comes in the form of its bonus features—or their lack thereof, rather. A number of deleted scenes is all there is.
Part satire, part parody, and 100% heist drama, Logan Lucky is a wonderful addition to anyone's library and another gem in Steven Soderbergh's crown.