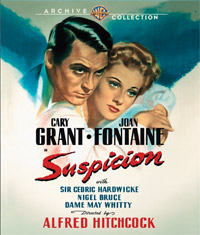 Suspicion (1941)
Warner Home Video
Cast: Cary Grant, Joan Fontaine, Nigel Bruce, Cedric Hardwicke
Extras: Featurette, Theatrical Trailer
Rating: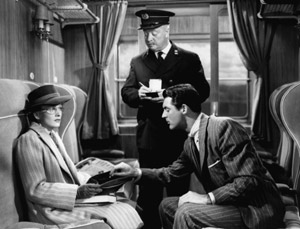 As Warner Brothers Home Entertainment is continuing to bolster its Warner Archive Collection with Blu-Ray titles, one recent addition stood out for me — Alfred Hitchcock's 1941 thriller "Suspicion."
Very much in the vein of "Rebecca, " which he directed one year earlier, "Suspicion" is an atmospheric film, dense with foreboding, in which a lot of the suspense is created by the way the story suggests certain things and directs the viewer – and the heroine – to make certain assumptions. Carefully handling these expectations, like a puppeteer would his marionette, Hitchcock masterfully toys and weaves a film that is as mysterious and menacing in the brightest sunlight as many other films are in the most brooding dead of night.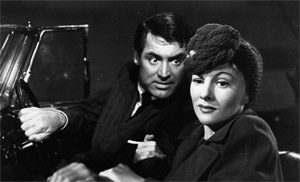 For the first time, Warner Brothers Home Entertainment is making "Suspicion" available in high definition with this release, giving the film a bit of an overhaul. Presented in its original fullframe aspect ratio, the transfer is in pretty good condition and reveals only occasional blemishes and scratches. Given the film's age, it is hardly surprising that some grain is evident in the film stock, but it adds to the movie's vintage quality, reminding us firmly that this film hails from a time when movie-making was as much an adventurous experiment as it was a product of idealism and passion, a time when not everything was scrubbed clean to a point of sterility, but where a filmmaker's tradecraft was evident in every frame.
As such, it is great to see that the black and white reproduction of the film is beautiful and renders a balanced image throughout. Blacks are deep and rock solid, while whites are generally clean — though they do have a tendency to bleed on occasion, creating a slightly overexposed look. Given Blu-Ray's capabilities, the resulting image and the gray scales to render all the glorious details are perfectly preserved.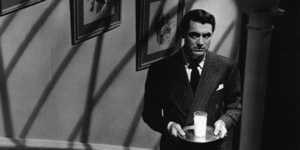 The audio on the Blu-Ray version is also in good condition. Given the production limitations of the film itself, the soundtrack does sound dated and has a narrow frequency response, resulting in a harsh presentation, but it is free of hiss or pops and does a great job at restoring a truly vintage presentation of the movie.
The release also contains the featurette "Before that Fact: Suspicious Hitchcock" that was also found on the previous DVD release. It features interviews with many Hitchcock scholars as well as his daughter Patricia and is full of great little tidbits that add to the overall understanding of the movie and is very well worth checking out.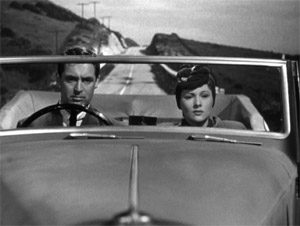 "Suspicion" is a great film that shows what a marvelous suspense-storyteller Hitchcock was. He managed to make sunny boy Cary Grant as dark and menacing as anything without ever having him do any violent acts or displaying any overt aggressiveness. Joan Fontaine is once again giving us a heroine that is torn by doubt and suspicion while always trying to overcome her own fears and weaknesses.
Great classic cinema, is all I can say about this movie. It is a fairly early Hitchcock gem and definitely worth seeing, especially now that it is available on Blu-Ray Disc.