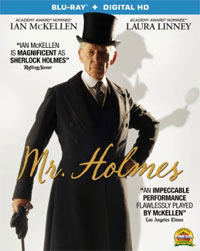 Mr. Holmes (2015)
Lions Gate Home Entertainment
Cast: Ian McKellen, Laura Linney, Milo Parker, Hattie Morahan
Extras: Featurettes
Rating: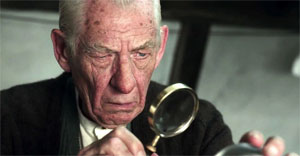 Sherlock Holmes is hotter than ever with the boxoffice success of the Robert Downey Jr. blockbusters and the British reimagining on the TV show "Sherlock." With "Mr. Holmes" we have yet another, very different, approach to the subject matter as director Bill Condon brings to the screen the story of an aging Sherlock Holmes, trying to bring closure to his life.
At the age of 93 years, Sherlock Holmes (Ian McKellen) is no longer the brilliant mind the world has been fascinated with. He no longer is the consulting detective who solved countless cases and spawned stories and newspaper headlines. He is, in fact, forgetting things as senile dementia is gradually stealing parts of his memory, leaving him devastated.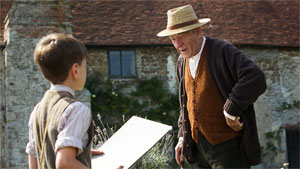 Living as a recluse in the Sussex countryside with only his housekeeper Mrs. Munro (Laura Linney) and her son Roger (Milo Parker) to keep him company, Holmes feels it is time to bring his house in order and set the record straight on the last case he worked on, one that his former partner in crime, John Watson, had so grossly misrepresented. But other than the fact that Watson had twisted the facts, Holmes has trouble remembering the case? What had really happened? Try as he might, Holmes can only remember small fragments and every time he tries to put them down on paper, his memory stalls.
It is only with the help of young Roger, who is insatiably curious about the case that Holmes truly makes an effort to unravel the forgotten case, and as he slowly puts the pieces back in place, he realizes that perhaps this was a case he had better left alone. He begins top remember that it was the case that made him stop being a detective. The case that ultimately broke him.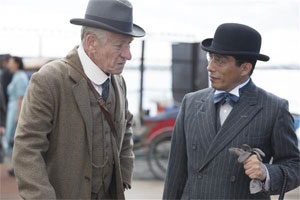 Unlike the explosive action sequences of the blockbuster franchise, or the fast-paced intellectual approach of the TV show, "Mr. Holmes" moves slowly – but deliberately. Once again, director Bill Condon does a remarkable job at putting the characters first and centering the entire story around their state of mind and their emotions. Much in the same vein as Condon's marvelous "Gods and Monsters" this film is digging deep into the psyche of its main character and lays bare the flaws, weaknesses and the self-doubt. The case becomes almost secondary to Holmes' own torment, his trying to deal with his senility, his own mortality while being frightfully aware that the iconic image of him will remain forever. Sad and angry, but at the same time longing for friendship, his reaching out to the little boy Roger makes him feel relevant again and it gives him purpose after years of morose persistence. But each of his lifts in spirit is accompanied by a fall back into the abyss of being impossibly cantankerous.
Ian McKellen is absolutely wonderful in his portrayal of this again Sherlock Holmes, an image entirely unlike any we have seen of the super sleuth before. He manages to weave in flashes of Holmes' brilliant mind that disappear as quickly as a drop of water on a hot stove while being replaced by his underlying discontent. Holmes was always abrasive as a character and McKellen makes good on this in small comments, a grunt or just a frown. It all feels natural and lends credibility to the character's exterior. At the same time, the fire of curiosity is kindled yet again and we see it fan to life as he explores his own past.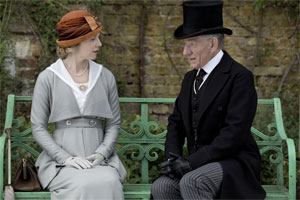 Laura Linney and Milo Parker play the perfect companions to bounce off Holmes' characteristics and while neither play a truly central part in the story, they are essential outlets for Holmes' journey into his own past.
Lionsgate is presenting the movie in a beautiful 1080p high definition transfer on this Blu-Ray release. The presentation is absolutely clean and clear, without any defects or blemishes. Level of detail is wonderful, adding richness and texture to the intimate shots, while the solid black levels give the image depth without ever creating the look of unnatural image enhancement. It is a very natural-looking film, from the interiors to the outdoor shots of the stunning Sussex country- and seaside, especially the South Downs. Its visual style perfectly matches the character-driven drama that viewers witness with dark and bleak moments, mixed with exciting and upbeat scenes. The compression on the disc is without flaws and not a hint of artifacting is evident, giving the film the look and presentation it truly deserves.
Accompanied by a DTS 5.1 HD audio track, the release also shines in the audio department. While not filled with surrounds for effects purposes, the track makes great use of ambient surrounds to create a living and breathing environment that has class and character. Carter Burwell's haunting score is also making good use of the format with impressive clarity and a wide sound stage throughout. Dialogues are well integrated and never drowned out.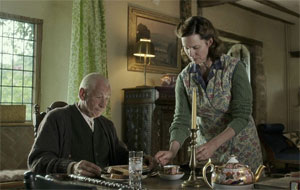 I found it truly remarkable how Condon managed to craft a story here from the script of Jeffrey Hatcher, based on a novel by Mitch Cullin, that does not at all fall for the tropes and has a very sad and emotional conclusion, yet manages to end the film with a truly touching and uplifting moment that will stay with viewers for a long time. A moment of a Sherlock Holmes we have never seen before. All in all, it is yet another super-impressive film by one of the most overlooked directors in Hollywood who finds his real strength in characters, not superficial action or fast-paced narratives. Like "Gods and Monsters," he takes us on a journey to experience the life of a person and the tribulations he goes through, and he does so in an incredibly touching way without ever becoming sappy or melodramatic. If you enjoy the kind of cinema where you want to connect with the people on the screen, "Mr. Holmes" is the film for you, regardless of what you feel for Sherlock the sleuth, because in this film he is positively human.