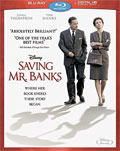 Saving Mr. Banks (2013)
Buena Vista Home Entertainment
Cast: Emma Thompson, Tom Hanks, Paul Giamatti, Jason Schwartzman
Extras: Deleted Scenes, Featurettes
Rating:
Every once in a while, Hollywood decides to take a look at itself and create a movie that tells the story behind a movie. "Saving Mr. Banks" is one such case, as it uncovers the story behind the Walt Disney classic "Mary Poppins." Not sure what to expect, I was nonetheless eager to take a look at the release, simply based on my fond memories of the Julie Andrews musical, and this film's cast.
For twenty years, Walt Disney (Tom Hanks) has been pursuing British writer P.L. Travers (Emma Thompson), trying to obtain the rights to turn her beloved series of "Mary Poppins" books into a movie. For twenty years she has refused him, purely based on Disney's image as a cartoonist who creates light-hearted entertainment, and her own view of Mary Poppins, which she felt would be entirely misrepresented by Disney.
But as her book sales are flagging, Travers is in dire need of money and she eventually opens communication with Disney, allowing the project to move ahead, albeit under her strict script supervision and complete creative control.
As she arrives in Los Angeles and begins work at the Burbank studios, she turns out to be a gruff and absolutely unaccommodating collaborator, rejecting everyone's ideas but her own, establishing n almost tyrannic reign over the people who try to bring the film to life. She insults everyone in her wake and virtually does her very best to derail the project at every possible opportunity. She never gives the movie a real chance, and when Walt Disney realizes it, he decides to step in on a more personal level, appealing to the embittered writer, uncovering and facing the painful truth of her own past that lies beneath the story of "Mary Poppins."
"Saving Mr. Banks" turned out to be a marvelous experience, a wonderfully heartfelt film that brought new meaning to the story of Mary Poppins – at least it did to me. I've read reviews of the movie, claiming that the film portrays P.L. Travers as nothing more than a disgruntled, ever-complaining spoilsport, but in all honesty, I do not think that is a correct reflection of what is going on in the film. Perhaps those reviewers did not understand how the Australian sub-plot wove into the story, but to me, the film was an emotional exploration of her embitterment, not showing us the disgruntled woman, but the reason why she became so overly protective of her characters. Walt Disney himself related to it best in the film, when he talked about his own relationship with Mickey Mouse and explained to his employees that he completely understood her reservations.
Emma Thompson is simply magnificent in the role as P.L. Travers and she impeccably captured the rhythm and flow of the author's speech pattern, as evidenced by the original audio recordings that run over the film's end credits. More importantly, however, she manages to bring the loneliness and the longing in Travers to the forefront without the need for any words, oftentimes, with simply a look or a small gesture. Despite being stand-offish, Thompson's character never comes across as completely unlikeable. There is always a spark there that gives the viewer the impression that there is more to her than just her disparaging attitude, and as the story unravels, we learn that, indeed, there is more to Mrs. Travers than first meets the eye.
Tom Hanks as Walt Disney has been an interesting choice because neither the voice, not the visual impression of Hanks resembles the entertainment icon, and yet, he manages to pull it off fairly well. No one will ever mistake Hanks for Walt Disney, but the manner in which he talks and some of the mannerisms in the film certainly carry the Walt Disney trademark.
The film is presented in a beautiful 1080p high definition transfer on this release, that is free of any blemishes or defects. With strong colors that conjure up the early 60s, and very good detail, the transfer is certainly a pleasure to behold. With deep black levels that give the image a naturally rooted look, the presentation is every bit as great as you could hope for, without any flaws or artifacts in sight.
The film is accompanied by a DTS 5.1 HD Master Audio track that is also perfect in every way, adding subtle splendor to the film as a whole. With a balanced frequency response and clarity, the track always makes sure it plays perfectly to the images without getting in the way. From the music, the dialogues and the ambiance, the soundtrack is perfectly balanced throughout.
As extras, the release contains a short clip called "Let's Fly a Kite," in which the cast and crew revisit the famous song from the Mary Poppins movie together with the original composer Richard Sherman, whose character plays a big part in the film.
Also included is a Disney Studio Lot tour, hosted by director John Lee Hancock, as he reminisces about the world of Disney back in the 60s, and how much of Walt Disney's spirit can still be found there today.
Also included are a few delete scenes.
"Saving Mr. Banks" is a marvelous film. I wasn't sure what to expect and walked away mesmerized and touched. It is a glorious celebration of one of Disney's most cherished films and brings to life the people behind it.