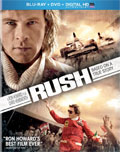 Rush (2013)
Universal Home Video
Cast: Chris Hemsworth, Daniel Brühl, Olivia Wilde, Alexandra Maria Lara
Extras: Deleted Scenes, Interviews, Featurettes, Documentary, Digital Copy
Rating:
"Rush" is Ron Howard's latest movie, once again grabbed from real life, as he explores the rivalry between race car drivers James Hunt and Niki Lauda in the 70s. As you would expect from a movie made by Howard, this is once again a feast for the senses with a solid, underlying character drama. With Universal Home Entertainment's Blu-Ray Disc now available, clearly I had to take a look.
Clawing their way through Formula Three, wonder boy James Hunt (Chris Hemsworth) is living like a rockstar. Partying hard and drinking even harder, he is a playboy daredevil without fear. When he puts the pedal to the metal, it is to win. Until one day he meets Niki Laua (Daniel Brühl), an Austrian race car driver who is every bit as talented, but with a personality at the other end of the spectrum. Lauda is a perfectionist who leaves nothing to chance. Determined, with military discipline and an iron will to win, the two quickly become rivals.
Hunt thinks he has made it big when his sponsor decides to spring the money and take him to Formula One racing, the place where the real stars are and where big money is being made. But he soon finds that Lauda has also made the jump, buying his way into the league with his own money. With every race the rivalry between the two becomes more intense. While they respect each other's driving skills, each of them is constantly trying to better the other and when Hunt is trailing points during the championship races in 1976 he can only hope for a miracle to catch up with Lauda. And that's the day when rain on the Nürburgring race track in Germany writes history and turns both drivers into racing legends. Each in their own way.
I'm not much of a race car fan, never have been, but the promise of a Ron Howard film was clearly too tempting not to watch this movie. And it paid off well enough. "Rush" is a fascinating look into the world of 70s championship racing at a time where the men behind the wheel were still in charge of their destinies, before the over-commercialization and technology completely changed the sport, a world where competitive advantages were often gained by pure skill and not exclusively by better gear or by throwing more money and computing power at a particular team.
What the film manages superbly is finding a solid balance between the furious racetrack action, as Formula One Ferraris and McLarens are howling along the speed track, with the drama unfolding behind the scenes and in the drivers' personal lives. Despite the movie's overall balance of these two elements, I was surprised how underplayed the actual relationship between Hunt and Lauda is in the picture. Aside from throwing insults at each others' heads there are few moments where the two actually have conversation, let away a "relationship." It was only in the disc's supplements that I learned how close the two actually were in real life. That they spent a lot of time together, talking ,discussing and sharing their experiences, that despite their differences they were friends within this rivalry.
Still, "Rush" delivers excitement in spades and rounds the experience out with solid characters. While Chris Hemsworth is the marguee name on the film, it is Daniel Brühl in my eyes who is carrying the film. Perhaps, because he is the more tragic character, perhaps it is because his character is simply deeper and not as fast-living-shallow as Hemsworth's Hunt. The two are supported by a solid cast that bring to life the world surrounding these drivers.
The release boasts a great-looking 1080p transfer of the movie that is devoid of any blemishes or problems. The beauty of recent movies is that they are often treated in the digital domain throughout without ever going to film, and it shows. With no speckles or dirt, the image is razor sharp and offers a great deal of detail at all times. Powerful colors and deep black levels give the image life and depth, making "Rush" a grandiose spectacle at times.
Naturally, the audio presentation does not disappoint either. Arriving as a DTS 5.1 HD Master Audio track, the sound of the film is every bit as furious as the racing sequences. With bold surround usage and a wide frequency response, the track brings to life every little nuance while also offering up a hell of a kick. Dialogues are well integrated and always understandable.
As extras, "Rush" contains a selection of Deleted Scenes well as a featurette with director Ron Howard in which he discusses "A Director's Approach." Also included are featurettes covering the real events depicted in the film, including a look at the real James Hunt and Niki Lauda, and the events of the 1976 racing season. A Making-Of Documentary takes a closer look at the production of the film, its cast, the script, the locations and more.
"Rush" is no "Apollo 13" by any stretch, but it is a solid piece of entertainment that has been crafted very carefully. With a good balance of action and character it is exciting from beginning to end and is definitely recommended viewing.