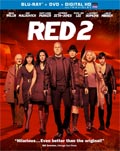 RED 2 (2013)
Summit Entertainment
Cast: Bruce Willis, John Malkovich, Helen Mirren, Mary-Louise Parker, Anthony Hopkins, Catherine Zeta-Jones
Extras: Gag Reel, Deleted Scenes, Featurettes, DVD version, UltraViolet
Rating:
For some reason "RED" flew completely under my radar when it was released and it was "RED 2" that first drew my attention towards this funny and action-packed row of thrillers.
Former black-ops CIA operatives Frank Moses (Bruce Willis) and Marvin Boggs (John Malkovich) find their retirement idyll destroyed once again when someone is leaking a top-secret document on the Internet, outlining their participation in a project called "Nightshade, " years ago. But no one seems to know what "Nightshade" is, not even Frank and Marvin, and so as their own government sends out hitmen, trying to shut the former agents' mouths forever, Frank and Marvin set out to find out who's behind the leak and more importantly, what perversely secret mystery lies behind "Nightshade" that would warrant their death.
Accompanied by Frank's girlfriend Sarah (Mary-Louise Parker), the team travel the world and slowly begin to piece together bits of information. But they need more help, and while the world's best hitman, Han Cho Bai (Byung-hun Lee) attempts to kill them every step of the way, Frank and Marvin call upon their old friends, including former MI-6 specialist and marksman Victoria (Helen Mirren) and the sultry Russian spy Katja (Catherine Zeta-Jones) to get things done. But with every step forward, somehow they constantly find themselves two steps behind.
In my opinion, "RED 2" is even better than the original movie, as it is a rollicking action thriller that has so many hilarious moments to make the movie a cult hit right away. But aside from that, with a story that twists and turns every few minutes, the film is a dead serious affair in itself. With staggering action and an incredible shooting style – photography-wise, that is – "RED 2" is elegant, fast-paced, funny and exciting through and through.
Not much has to be said about the cast, I suppose. An action vehicle that contains an all-star line-up like this holds a lot of promise, and the film definitely delivers. John Malkovich is priceless in one of the few comedic roles of his career, as the huffs, grumbles and rolls his eyes, Catherine-Zeta Jones is, appropriately, the seductress who becomes Frank's cryptonite, Helen Mirren is cool and calculating, with some of the wittiest lines of dialogue in the entire film – not to mention one of the coolest shots in the entire film as she fires her handguns out the windows of a skidding car – and always fun to watch. Anthony Hopkins plays the absent-minded scientist to perfection as he halts in mid-sentence, rambles on with another sentence only to return to the previous sentence halfway through that.
And the, of course, there are Bruce Willis and Mary-Louise Parker, whose chemistry is literally leaping off the screen. The dynamics between them are incredibly funny and feel real all the time, adding on top of it all some of the most memorable highlights of the film, as well as some of the quirkiest moments. Parker's eyes say it all, every time…
The release features a marvelous 1080p high definition transfer that is absolutely clear and without any laws. Incredibly rich colors make watching the film a true pleasure and with its incredible level of detail, every little texture and element in the image comes to life. Black levels are balanced and help to give the image solid shadows, helping to infuse the transfer with plenty of visual depth throughout.
The bombastic audio track, presented in DTS 7.1 HD Master Audio, of course, totally kills. With super-explosive dynamics and a wide frequency response, the audio presentation is free of distortion and offers a very clear mix with wide surrounds. Discrete channels are finely delineated and add tremendously to the film, as the sound field is constantly active in all of its 360 degrees.
As extras, the release also contains a Gag Reel and a set of Deleted Scenes, along with a multi-part documentary that takes a closer look at the production of the film. In addition, the release also contains the DVD version of the movie, as well as access to an UltraViolet Digital HD version.
"RED 2" is one of the most entertaining and satisfying action comedies I have seen in a long time. Leaving films like "The Expendables" in its wake with ease, it is a stylish film that oozes class in any single frame and knows how to tell a story that is twisting and turning every which way without ever getting convoluted or confusing. To me there can be no doubt. "RED 2" is a film you have to check out. You owe it to yourself!