The Muppet Christmas Carol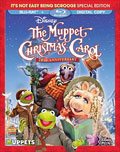 The Muppet Christmas Carol (1992)
Buena Vista Home Entertainment
Cast: Michael Caine, Kermit the Frog, Gonzo, Rizzo, Piggy
Extras: Commentary Tracks, Featurettes, Bloopers, Profiles, Digital Copy
Rating:
We all are familiar with Charles Dickens' "A Christmas Carol, " if not by having read the actual novella then by having watched one of the countless film adaptations and retellings that have graced the big and small screen for generations. In 1992, Jim Henson's son Brian picked up his father's legacy and made the first Muppets movie after Jim's passing and created a true gem in the Muppet movie legacy.
The film tells the story of Ebenezer Scrooge, deviously played by Michael Caine, as his cold heart is putting fear into everyone around him, including his loyal underpaid worker Bob Cratchit (Kermit the Fog). Solely focused on making more money, Scrooge has no time for being jolly and drives his workers on relentlessly, begrudging them even a day off on Christmas.
But on this Christmas night, Ebenezer Scrooge is visited by the ghosts of his former partners, equally cold-hearted money grabbers, who toil away in the afterlife now, forever chained by their own greed. They warn Scrooge that he has to change his ways lest he be doomed like them forever, and to underscore their point, they send three spirits to Scrooge that night. The ghost of Christmas, past, present and the spirit of Christmas yet to come. Will it be enough to set Scrooge on the path of righteousness after a life of greed?
"The Muppet Christmas Carol" is a colorful retelling of the Dickens story that remains fairly faithful to the original despite it being largely populated by furry puppets. As told by Charles "Gonzo" Dickens and his companion Rizzo the Rat, the story unfolds with a wonderful atmosphere and manages to conjure up true emotions. It is heartfelt and honest, making the characters relatable without becoming too sappy. With Michael Caine in the lead, it is no surprise that Ebenezer Scrooge is a character that comes to life in every scene, casting a pall of dismissal around him that carries the movie with ease.
A few short musical numbers break up the story, but once again, this is the Muppets, so the music is beautifully arranged and features meaningful lyrics that deepen the story and characters, without ever appearing to be mere tacked-on ornamentation.
Walt Disney Home Entertainment has prepared a nice-looking high definition version of the movie on this Blu-Ray release, offering up a 1080p transfer that is rich with detail. Although a hint of grain is evident at times, especially in some of the special effects shots that required multiple exposures of the film, the image is always top notch. You have to remember that this is a special effects film made before the age of high end computer graphics, and as such, some of the effects are actually pretty impressive. Overall, the level of detail and the clean transfer, combined with the incredibly rich color reproduction make "The Muppet Christmas Carol" a truly enjoyable family movie that will captivate not only the kids but the adults likewise.
The movie's audio is presented as a DTS 5.1 HD Master Audio track that offers good surround usage and a well-balanced sound filed. With a good bass extension and clear high ends, the track is solid throughout and dialogue is never drowned out by the music or the sound effects.
Fans of the movie will be pleased to hear that you will find a number of great extras on this 2-disc Blu-Ray release that also features a Digital Copy of the movie – that is a true Digital Copy not one of those UltraViolet streaming wanna-bes.
Among the extras you will find two commentary tracks. the first one features Kermit, Gonzo, Rizzo and other Muppet cast members as they discuss the film and the making of the movie, while the second track is reserved for director Brian Henson. Filled with info and a few good laughs, both tracks are worth checking out, though clearly, each has its own unique focus.
A Blooper Reel is also included on the release, along with features and featurettes that allow you to take a closer look at the Muppets and the making of the film. All of them are presented in a rather playful way, making them appealing for kids as much as for adults.
"The Muppet Christmas Carol" is a great family movie that celebrates the spirit of Christmas. It is a true gem of Muppet puppetry and helped show the world that Brian Henson was indeed capable of filling his father's shoes. For fans of the Muppets or Henson puppetry in general, this Blu-Ray release is a clear winner and a must-see.