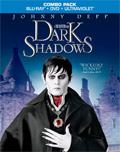 Dark Shadows (2012)
Warner Home Video
Cast: Johnny Depp, Michelle Pfeiffer, Helena Bonham Carter, Eva Green, Jackie Earle Haley
Extras: Deleted Scenes, Maximum Movie Mode, Ultraviolet Copy
Rating:
The gothic horror soap opera "Dark Shadows" has been flickering across TV screens for many years and has drawn legions of fans in its following. While I've seen the occasional episode here and there, I have to admit that it's never really attracted me all that much. When Tim Burton decided to turn the material into a film, however, I was all ears – naturally. Now available on Blu-Ray, "Dark Shadows" was a movie I had to sink my teeth into, no matter what.
in the late 1700s, Barnabas Collins (Johnny Depp) is watching his family fortunes grow as his father builds a fishing empire in New England. But when they young man does not return the affections of a local girl (Eva Green), he finds out that Hell has no fury like a woman scorned. The girl, it turns out is a witch and for revenge, she kills Barnabas' parents. When Barnabas falls in love with another girl, seething with jealousy, the witch kills the girl also and curses Barnabas. She turns him into a vampire, and to make matters worse, she has him locked in a coffin and buried alive.
For almost two hundred years, Barnabas is locked in his dark, cold grave, until one day, during the excavations for a road construction his coffin is unearthed and the vampire – thirsty as hell – is set free once more. But instead of a mindless, blood thirsty monster, Barnabas actually turns out to be an ambitious young man who wants to put the family's ruined name and business back on the map. Until he crosses paths with an old acquaintance once more…
"Dark Shadows'" appeal comes from two angles, the fascination with the gothic horror and its atmospheric imagery and the clash of the ages as a 1790 man is transplanted into the swinging 1970s. In the hands of Tim Burton, this kind of material is gold, as his wickedly visual style and his ability to masterfully inflect humor into serious situations seems perfect for a project like "Dark Shadows."
And the movie doesn't disappoint. While it is not perfect and does not entirely rise to the occasion, it is still an enjoyable film with countless highlights. Sadly, towards the end, the story becomes a little too predictable and seems to borrow from all sorts of genre films, including the Exorcist, Death Becomes Her and The Shining, to name just a few, diluting the climax noticeably.
The characters are nicely done, however, and Johnny Depp shines once again as Barnabas Collins. Not only is his onscreen presence marvelously magnetic, the delivery of his lines is spot on and will give you giggles more than once, as the out-of-place vampire tries to learn the ropes of 1970 society.
Presented in glorious 1080p high definition on this release, the film is opulent all the way and beautiful to behold. With incredible detail and razor sharp definition, the film is every bit as bold as you'd hope and expect from a Tim Burton movie. Throw in a perfectly balanced color palette to restore the movie's gothic look, and you will remember why you bought a Blu-Ray player in the first place.
Danny Elfman provided the score for the movie and presented in a DTS 5.1 HD Master Audio presentation, the audio on this release is bombastic and powerful. Full-bodied bass extension gives the track a lot of weight and impact, while the clean high ends add to the overall clarity of the presentation. Without any distortion or problems and aggressive surround effects, this track is perfectly fitting the movie.
If you've been expecting a whole lot of bonus material, you might walk away a little disappointed from this release. There are a few deleted scenes on the disc, and upon viewing them it is obvious why they have been excised from the final film, as they offer little real value and do not further neither the plot nor character development. The only other bonus feature is Warner's Maximum Movie Mode, which offers behind-the-scenes looks at the production of the movie. While it offers plenty of material and insight, I am just not a big fan of these "embedded" bonus materials and prefer to have direct access to featurettes and what other content might be lurking as part of the presentation.
In addition, the release contains a DVD version and an Ultraviolet copy.
I enjoyed "Dark Shadows." It was not as great as I had hoped, but it was a fun romp and thoroughly enjoyable, featuring Tim Burton's signature all over.