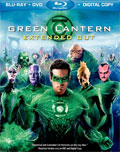 Green Lantern (2011)
Warner Home Video
Cast: Ryan Reynolds, Blake Lively, Peter Skargaard, Mark Strong, Angela Basset
Extras: Maximum Movie Mode, FEaturettes, Deleted Scenes, Bloopers, UltraViolet Digital Copy
Rating:
Since the dawn of the digital age revolutionizing filmmaking, superhero movies have become a standard fare of the industry. Even the most obscure of characters have been turned into live action films, while some of the bigger names were, interestingly enough, left out. One such character was DC Comics' "Green Lantern," a character I remember enjoying as a kid a lot more than Superman or most others of the superheroes.
Nonetheless, I was very hesitant to give this film a real shot, because the market has been so abundant with really poor superhero adaptations and a slew of forgettable films. I was afraid, "Green Lantern" may just be another waste of my time. I needn't have worried.
Hal Jordan is a military test pilot. Following in the footsteps of his legendary father, he is one of the best pilots whose job it is to test the latest equipment. A job that has him constantly walking on the brink of sudden death, just as his father did – and perished.
One night, a mysterious green light ball leads him to a crashed alien spaceship, the purple-skinned alien inside barely alive. With his last breath, the alien tells him that he has been chosen to be a Green Lantern, a protector of the universe, and hands him a ring.
All of Hal's doubts evaporate when he puts on the ring and activates it using the green lantern the alien had also handed to him. He undergoes a change and turns into a superhero, an almost indestructible force with superhuman abilities He, in fact, becomes a Green Lantern. One of many protectors from all over the universe, whose job it now is to fight evil wherever he meets it.
The thing I liked most about "Green Lantern" is the film's irreverence. After publishing countless superhero comics that established and rigorously followed various stereotypes, the creators of Green Lantern must have felt that it was time to break the rules and turn these clichés on their heads. As a result, Hal Jordan is not your regular, super-secretive hero who completely transforms into a different personality for his secret identity.
Everyone knows that Hal is the Green Lantern. He makes no heed of it and his costume doesn't exactly hide his features either. The way the story pokes fun at standard comic book elements like this, is what makes "Green Lantern" highly enjoyable and entertaining, because you never know what kind of joke or pun awaits you in the next scene.
Featuring a great cast also helps to drive this film. Ryan Reynolds makes for a great superhero that is not without his charm despite his overt cockiness. Reynolds also plays up Hal Jordan's human side pretty well. His doubts, his fears, his inner demons, it is all presented and coming across very nicely in this film, making Hal Jordan a real character with emotional depth and dimension.
I was also pleasantly surprised by the special effects in the film. Unlike recent outings, such as "Thor," for example, where everything looked completely like a video game, "Green Lantern" has a very different look. I found it to be much more organic and resembling a comic book that comes alive. The powerful greens and purples leap off the screen and instantly conjure up an alien world. The entire visual design of the film has been created in such a way that it never reveals the technical shortcomings but instead surplants them with a sense of wonder as Hal goes into space and visits the Lantern's home planet.
Even the film's villain, Parallax, comes across decent enough for a being that has been created entirely in the computer and consists of floating animated matter that could easily have turned into a complete cheezefest.
Warner Home Video is presenting "Green Lantern" in a magnificent high definition transfer on this Blu-Ray Disc. The transfer is flawless and pristine with colors that are incredibly bold and vibrant, and black levels that create a picture with a staggering amount of visual depth. The level of detail in the transfer is also remarkable, as it brings out every nuance and subtlety in textures.
A DTS 5.1 HD Master Audio track complements the film and it is every bit as powerful and energetic as the movie itself. With a wide dynamic range and a balanced frequency response, the film is a showpiece for modern sound design. Dialogues are always clean and understandable, keeping the mix balanced and properly centered.
As extras, the release contains a few bloopers and deleted scenes, as well as the digital comic version of the first issue of "Justice League." The heart of the disc is the Maximum Movie Mode, which allows you to explore additional content, information and behind-the-scene footage while you are watching the film in a picture-in-picture fashion. The content that makes up the Maximum Movie Mode also contains featurettes, bios photo and sketch galleries and a whole lot more.
"Green Lantern" was a very pleasant surprise. It is an entertaining movie that has its story and the characters right, making for an explosive romp that has cmic book written all over. I enjoyed the film so much, in fact, that I hope they will make a sequel.