The Wizard Of Oz: Ultimate Collector's Edition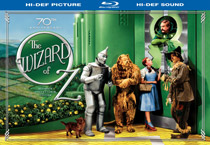 The Wizard Of Oz: Ultimate Collector's Edition (1939)
Warner Home Video
Cast: Judy Garland, Frank Morgan, Ray Bolger, Bert Lahr, Jack Haley, Billie Burke, Margaret Hamilton, Charley Grapewin
Extras: Book, Reprints, Watch, Featurettes, Documentaries, Profiles, Interviews, Specials, Silent Movies,and much much more
Rating:
When Warner first announced "The Wizard Of Oz" for release on Blu-Ray Disc, somehow I felt as if I had seen the film one times too many. After countless DVD versions and TV broadcasts, "The Wizard Of Oz" just didn't sound as exciting as it did years ago. On the other hand, when I heard that they have completely remastered it for this release, my ears perked up, so when the release showed up on my desk, I decided to give it a close look. To give it to you in a nutshell, I think I'm running out of superlatives to describe this particular release!
Join Dorothy (Judy Garland) and Toto on their adventures along the classic yellow brick road as they meet up with a scarecrow in search of a brain, a charming tin-man that is void of a heart, with a wary, yet compassionate lion who seeks a little courage joining the group as they attempt to gain assistance from the infamous Wizard in the Emerald City of Oz. With general guidance from the friendly witch of the north, who gives Dorothy a pair of ruby slippers to help her fend off a nasty wicked witch of the west, who tries everything in her power to stop the group from reaching the Emerald City through various trickery and casting of spells.
One of first things you will notice is the release's sheer size and weight. Arriving in an oversized double-width cardboard box, this release weighs a full 3.5 pounds! The box itself is beautiful with rich colors, embossed silver printing and a glorious sticker on the front that announces your personal number of the limited release. It screams style, elegance and quality right there from the shelf, making it an eye-catching focal point in your collection, no doubt.
Inside the box, the release reveals its many, incredible extras, such as a 52-page hardcover book filled with countless color and black and white photographs, as well as information on the film, its history and its production. Also included is a reprint of the original 1939 Campaign Book giving you a chance to see for yourself what promotional materials looked like 70 years ago. You can also take a gander at a reprint of an original ledger sheet detailing the film's budget. But hold on, that is not all. Included in this spectacular box is also a "Wizard Of Oz" watch. Sporting a green wristband, a printed faceplate and genuine crystals, this is a great way for you to show your love for this classic movie.
Time to take a look at the movie itself. If you expect only the best, you will be absolutely amazed how even your highest expectation will be eclipsed by this release. As I said in my opening, I am running out of superlatives to describe this release, because "The Wizard Of Oz" looks simply sensational – not only for a movie that is 70 years old, but in general. However, when looking at the quality of the film, it is imperative to also point out the painstaking process this film had to go through to reach this level of quality because it will allow you to appreciate the quality and the effort that was put into it so much better. While many people think a movie is simply scanned and pressed on a disc, the reality is a little more complicated. A lot more complicated, actually, if the film is something like "Oz." Shot in Technicolor, the original film print consists of three color strips – 70 years old, each. Each of these separate colors prints has to be scanned separately and then cleaned up and color-corrected. Just imagine for a moment the kind of deterioration a film can see over the course of 70 years and you get a general idea of the amount of work involved here. Bu that is still not all. Once all three color strips have been prepared they need to be merged into a full-color image – one frame at a time. Since film sprocket holes wear out over time, once again, imagine the registration problems inherent in doing this with a film that is 70 years old. So, in order to compensate for the effects of time, every single frame of the 102 minute movie has to be properly tuned so that all three color prints align correctly. In addition additional dirt removal has to be applied to make sure whatever nicks and stains remained will be gone.
I believe I do not have to point out that this process is extremely time-consuming and more so, expensive. Even though "The Wizard Of Oz" is one of the crown jewels in Warner's film library, I find the approach laudable because they not only made a decent transfer, they exceeded all expectations and went above and beyond the standard approach, in order to get an absolutely staggering version of this films into the hands of its fans.
Looking at the movie you will notice how incredibly vibrant the colors are, bringing to life the world of Oz with dazzling vibrancy. The image is incredibly sharp and even the most minute detail is reproduced with all its definition and texture clarity intact. The same is true for the black levels in the film, which are deep and solid, giving the film newfound visual depth that adds to its character. One could only have dreamed of such a presentation for this film and clearly, never in its 70 years of existence, has this movie looked anything like this. It is a gem that has been polished to perfection.
The same is true for the audio presentation, which comes here as a Dolby 5.1 TrueHD track. It is clean and clear, making sure none of the original recordings is lost while also giving it a bit of spatial dimension and depth. Of course, Warner has also included the original mono track for purists.
The box set contains 4 discs, featuring all sorts of features and over 16 hours of bonus materials. If you are familiar with the previous 3-disc DVD release, you will be happy to hear that every single one of the extras included on that release have been carried over onto this release. Nothing is lost, not a single bit.
However, the release also adds a large number of new materials, such as a Sing Along feature, giving you the chance to sing with the cast. A number of new documentaries and featurettes are also included, such as a look at Victor Fleming, as well as the Holllywood Walk Of Fame induction of the Munchkins. Also included are the original silent films "The Magic Cloak of Oz" and "The Patchwork Girl of Oz." Further, you will find the 93-minute documentary "Dreamer Of Oz" as well as the 6-hour documentary "MGM: When The Lion Roars" on a separate DVD in the box.
It is very easy to see that "The Wizard Of Oz" is a spectacular release in terms of completeness and presentation quality. The end of the rainbow never seemed closer than in this release and the magic of the film has never been more radiant than on this Blu-Ray release. There can be no doubt in my mind that this release belongs into every Blu-Ray collection because quit frankly, I cannot imagine that it will every look any better than this. Warner has completely outdone itself here and I think fans should honor their dedication and commitment, particularly since the result is so completely jaw dropping.