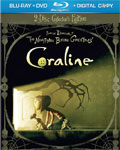 Coraline (2009)
Universal Home Video
Cast: Dakota Fanning, Teri Hatcher, John Hodgman, Dawn French, Jennifer Saunders
Extras: Commentary Track, Deleted Scenes, Featurettes, Video Commentary, Voice Sessions, BD Live
Rating:
Ever since "Tim Burton's The Nightmare Before Christmas" sparked our collective imaginations and gave modern audiences a rekindled appreciation for stop-motion animation, fans have followed and eagerly anticipated the movies of director Henry Selick. His latest effort, "Coraline," based on the book by Neil Gaiman, has now arrived on Blu-Ray Disc from Universal Home Entertainment and it was a film that was definitely on my shortlist of films to see.
When 11-year old Coraline (Dakota Fanning) moves into her new home, she is greeted by nothing but gray clouds and loneliness. Feeling neglected by her parents (Teri Hatcher and John Hodgman), who are both too busy editing their garden catalog to pay attention to her antics, she sets off to explore her surroundings. In the woods, she meets a chatty young boy named Wybie, who hands her a doll at one point that not only serves as an exact duplicate of herself, but also causes her to stumble across an alternate world.
Hidden behind a wall, this new world provides a counterpart for every aspect of her life, and also reflects Coraline's longing for love and attention. Her Other parents, who have buttons for eyes, give her all that she asks for, including delicious food and various wonders. In addition, Coraline's eccentric neighbors, such as the two flamboyant actresses (Dawn French and Jennifer Saunders) who insist on having their departed dogs stuffed, and a burly and skilled acrobat (Ian McShane), also present her with enchanting performances. Much like "Alice in Wonderland," she is also guided by a cat similar to the Chesire Cat, which talks and helps her navigate around, along with many other creatures.
However, Coraline slowly begins to realize that not everything is as it seems as the world distorts into something more sinister. When she refuses to have buttons sewn into her eyes, the Other mother's true intentions and twisted visions of love are revealed. Coraline finds herself having to fight her way back out using her wits.
One thing to remember when watching this movie is that it is based upon a children's book. As a result the story of "Coraline," while solid, is rather straight-forward in its narrative as well as its plot development. This, in the end, turns out to be what may be the film's only shortcoming. Although viewers see Coraline struggle to the finish, the ending turns out to be slightly anticlimactic, despite the fact that there is some action.
Overall however, all of the whimsical characters manage to delightfully join together for a tied-up resolution. The pacing is a bit slower than other children's movies or animated features, but this flow, sans constant explosions and non-stop action, gives room for the audience to soak in and enjoy the visuals. The animation is brilliantly done by Henry Selick and comes across as quite realistic and balanced. The color palette blends nicely with the story and elevates the moody atmosphere. The very dark tones of the story, which is constant throughout the movie are successfully spine-chilling. Some of the images are quite terrifying though they may be scary for younger children. After all, what could be creepier than an all-seeing doll that serves as a spy, "loving" parents who lure, manipulate, and trap kids in a perverse world — and did I mention button eyes?
Under great direction, the original story penned by Neil Gaiman, happens to transfer very well to film and as a result, people of all ages find it easy to get lost along with Coraline in a movie that is entertaining, has a deep story, great visuals, and wonderful characterization.
Universal Home Entertainment is bringing "Coraline" to Blu-Ray as a 2-disc Collector's Edition. It features a 1080p high definition transfer that is every bit as stunning as you would expect. Since stop-motion photography has no motion blur, the transfer looks almost brutally crisp and sharp throughout, reminding you over and again why you bought all that high definition equipment in the first place. Black levels are superb and the colors leap off the screen in powerful hues.
A DTS 5.1 HD Master Audio track accompanies the movie and with its discrete surround channels it creates a presentation that is incredibly active throughout. Dialogues, foley effects and the music mesh together perfectly for an experience that could not be more atmospheric.
A series of bonus materials can be found on the disc, starting out with a commentary track by director Henry Selick and composer Bruno Coulais. The track is a wonderful addition to the release offering insight into the production process while also allowing viewers to hear how the visuals and the audio go hand in hand and are created as such.
A few deleted scenes are also part of the package, together with a few featurettes that offer a closer look at the making of the film. Whether you are more fascinated by the look at the stop-motion process or the voicing of the characters may be up to you, but both featurettes are well worth viewing. Also included is a featurette with Neil Gaiman and Henry Selick in which they discuss the world of Coraline.
A picture-in-picture video commentary track as well as the ability to see the voice actors record their parts while you watch the movie, are part of Universal's U-Control features on the disc. Under the BD Live section you will find additional content that can be downloaded from the Internet, such as an additional conversation with Henry Selick among other things.
The DVD version and a Digital Copy of the film is also included on the release. While the DVD version has none of the video bonus materials, at least it also offers up the commentary track for fans to enjoy.
The film is also presented in standard 2D and 3D format on this Blu-Ray release. However, those expecting to see the incredibly stunning 3D presentation they experienced in movie theaters will be sorely disappointed. The technology used in movie theaters is currently not available in home theaters and will require completely new TV sets – the first of which were on display at CES earlier this year and will begin their parade into living rooms later this year.
As a result this release contains a "traditional" red/blue 3D transfer which I found not interesting. The color distortion that results from it, the inadequate spatial 3D effect and most importantly the ensuing headaches are just not worth it. Still, your mileagle may vary.
"Coraline" is a treat for all fans of stop-motion movies. The technology behind it is amazing – and the amount of patience necessary to make such a film immeasurable – and the film has a great story to tell. On this Blu-Ray Disc you have everything wrapped up nicely and in the best possible quality so there is really no excuse, not to purchase this great release.