"Galaxy Quest" intrepidly goes to a steel box version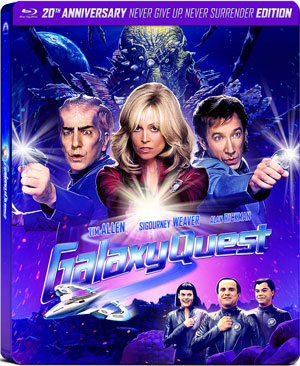 To celebrate the movie's 20th Anniversary, Paramount Home Entertainment has just announced a Steelbook Edition of the uproarious scoff comedy Galaxy Quest for release in September.
Twenty years after cancellation, the stars of the Galaxy Quest television series cling to their careers appearing at sci-fi conventions and electronic store openings. When a distressed interstellar race mistakes the show for "historical documents," Jason Nesmith (Tim Allen) and his crew of has-beens are unwittingly recruited to save them from a genocidal warlord.
Galaxy Quest features an all-star ensemble, including Sigourney Weaver, Alan Rickman, Tony Shalhoub and Sam Rockwell in this hilarious adventure that boldly goes where no comedy has gone before.
In addition to the movie itself, the release also features a host of bonus features, including Galactopedia, on-screen information about characters, ships, aliens and more, as well as Historical Documents: The Story of Galaxy Quest, in which the cast and filmmakers discuss how the film came together.
The Featurette Never Give Up, Never Surrender: The Intrepid Crew of the NSEA Protector celebrates the incredibly talented cast, and By Grabthar's Hammer, What Amazing Effects you get to go behind the scenes to explore the effects by ILM and Stan Winston.
Alien School—Creating the Thermian Race gives actor Enrico Colantoni's the opportunity to show off his process of developing the voice and manner of an alien race, while Actors in Space delves into the psyche of the cast.
The release is rounded out by Sigourney Weaver Raps, Deleted Scenes and the movie's Theatrical Trailer.
The Limited Steelbook Edition of Galaxy Quest will land in stores on September 21 for $19.99 as an exclusive at Best Buy.