"Godzilla" demolishes Brooklyn Bridge in May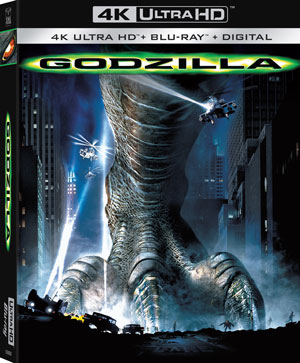 Sony Pictures Home Entertainment has just unveiled plans to bring Roland Emmerich's attempt at the kaiju genre, the 1998 version of Godzilla, to television screens once again, scheduling a 4K UHD version for release in May.
Following French atomic bomb tests in the South Pacific, an unknown creature is spotted passing through the Panama Canal. Scientist Niko Tatopolous (Matthew Broderick) is called in to investigate the matter, and he quickly arrives at the conclusion that a giant, irradiated lizard has been created by the explosions. Godzilla then makes its way north, landing in Manhattan to begin wreaking havoc in the big city.
The ultra-high definition debut of the monster spectacle will also contain a series of bonus materials, such as a Visual Effects Commentary, the Featurette Behind the Scenes of Godzilla with Charles Caiman and a selection of All-Time Best-of Godzilla Fight Scenes, all of which have been part of previous home video releases.
The "Heroes" Music Video by The Wallflowers will round out the release, together with the movie's Trailers and the original, iconic Teaser.
Godzilla will arrive in stores on May 14.