Warner brings "Krypton" to home video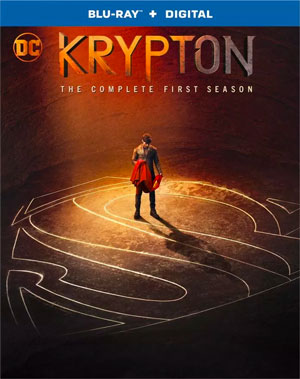 Warner Brothers Home Entertainment has just unveiled details about the upcoming release of the superhero television series Krypton: The Complete First Season, bringing the show to Blu-Ray Disc and DVD in March.
What if Superman never existed? Set two generations before the destruction of Superman's home planet, Krypton follows a young Seg-El, the legendary Man of Steel's grandfather, who is faced with a life and death conflict – save his home planet or let it be destroyed in order to restore the fate of his future grandson. With Krypton's leadership in disarray and the House of El ostracized, Seg fights alongside Earthly time-traveler Adam Strange to redeem his family's honor and protect the ones he loves while saving the future of his legacy from DC Super-Villain Brainiac.
Aside from all 10 episodes that make up the show's first season, the release will also contain a number of bonus features, including the 2017 Comic-Con panel and the Featurettes Krypton: Bringing the Home World to Life and A Lost Kingdom: Life on Krypton.
Further, you will find Deleted Scenes and a Gag Reel on the release.
Krypton: The Complete First Season will be available in stores around the country on March 5 and can be yours to won for $29.98 as a 2-disc Blu-Ray Disc set, or $24.98 for a 2-disc DVD set.