Lionsgate sends "Rambo" into the field in ultra high definition
Lionsgate Home Entertainment has recently announced the upcoming release of Sylvester Stallone's career-defining movies, First Blood, Rambo: First Blood, Part 2 and Rambo 3 on 4K UHD for the first time, scheduling the films as individual releases for a mid-November.
In First Blood, he never fought a battle he couldn't win—except the conflict raging within his own soul. Sylvester Stallone plays war hero John Rambo, an ex-Green Beret haunted by memories of Vietnam, who was once the perfect killing machine. Now he's searching for peace, but finds instead an over-zealous, small-town sheriff who's spoiling for a fight. All hell breaks loose when an unjustly imprisoned Rambo escapes and becomes the target of a massive manhunt. Now he must use all his cunning, combat skills and weapons training to stay alive and outwit his pursuers.
In the sequel, Sylvester Stallone returns as John Rambo, the ultimate action hero, in a film that boasts a riveting screenplay by Sylvester Stallone and James Cameron. Although the Vietnam War is officially over, Rambo remains the perfect fighting machine. But his survival skills are tested with a vengeance on a top-secret mission that takes him back to the jungles of Vietnam in search of American POWs. For when Rambo is double-crossed, this "expendable" hero, armed with just a bow, arrows and knife, must defeat savage enemies equipped with deadly firepower.
In Rambo 3, the battle rages on as superstar Sylvester Stallone detonates the third blast in the action-packed Rambo series. Combat has taken its toll on John Rambo (Stallone), but he has finally begun to find inner peace inside a monastery—until his friend and mentor Col. Sam Trautman (Richard Crenna) shows up to ask for his help on a top-secret mission in Afghanistan. A war-weary Rambo declines, but when Trautman is captured, Rambo erupts into a one-man firestorm to rescue his former commanding officer and decimate the enemy. It's an intense, pulse-pounding adventure that boasts unrelenting action and suspense from start to finish!
Each of the three releases will feature a full supplement of bonus features, including all of the materials found on Blu-Ray Special Editions that include Commentary Tracks and numerous FeaturettesOuttakes, Deleted Scenes and other clips.
In addition, however, each of the new 4K UHD releases will also contain one part of a brand-new 3-part Retrospective Featurette called Rambo Takes the 80s.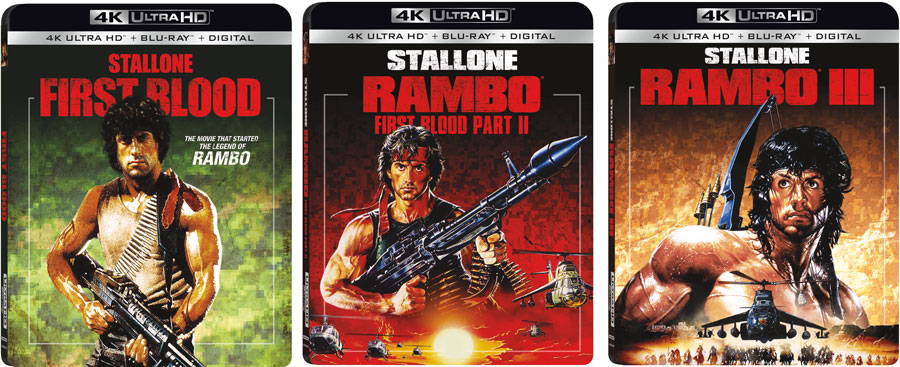 Grab a copy of your favorite Rambo movie in ultra high definition, when they arrive on November 13 for only $22.98!