Endeavour: The Complete Fourth Season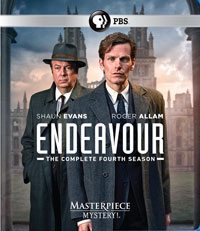 Endeavour: The Complete Fourth Season (2017)
PBS Home Video
Cast: Shaun Evans, Fred Allam, Anton Lesser
Extras: Featurettes, Interviews,
Rating: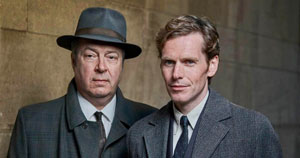 British murder mysteries are clearly some of my favorite genres and whenever a new season of my favorite shows arrives, I am eager to take a closer look. The latest PBS Masterpiece Mystery release, Endeavour: The Complete Fourth Season was, therefore, eagerly anticipated by yours truly and I was eager to dig in.
This season begins with Endeavour Morse (Shaun Evans) learning that he did not pass his Sergeant's Exam—though not through any fault of his own. It is a disappointment that only piles on top of the heartache he feels about the departure of Joan Thursday at the end of last season. But he is not alone.
DI Fred Thursday (Fred Allam) and his wife Win (Caroline O'Neill) are also heartbroken over Joan's sudden departure and lack of making contact. Win, in particular, is despondent and beside herself with worry.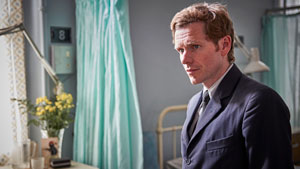 But all these private emotions have to take a backseat when a murder at a local bathhouse requires their attention and over the course of four sleuthing 90-minute episodes, Morse and Thursday try to rebuild their own relationship, find out where Joan has disappeared to, and solve some truly mysterious and bizarre cases of murder and vengeance.
Featuring its signature tone, the fourth season of Endeavour is everything I had hoped for. In front of the backdrop of Oxford, the show is weaving compelling and complex murder mysteries while making sure to add plenty of character and human relationships into the mix to add a solid bit of drama to the mystery. It is the recipe that made the show so successful in the past and it is once again on full display in season 4. The episodes also offer a nice variety of themes to make sure, each has its own feel and atmosphere. While "Canticle" is often on the humorous side with its over-the-top cast of characters of stoned rock musicians and moral apostles, episodes like "Harvest" are much more politically charged, while "Lazaretto," for example, plays nicely with the clichés of the hospital milieu, tossing it up a little by throwing Chief Superintendent Bright (Anton Lesser) into the midst of the murders. All very cleverly plotted and directed.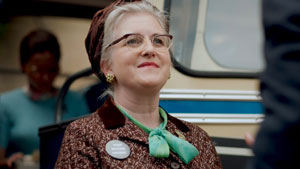 Spread over two discs, the presentation of Endeavour: The Complete Fourth Season is a thing of beauty. Arriving in a widescreen aspect ratio in a high definition transfer that holds plenty of detail, the real beauty of the presentation lies in the shadow details and colors. Endeavour has a very identifiable look to it, by design, often with very warm, earthen colors for interior shots and very high contrast outdoor shots with an incredibly vibrant palette. The Blu-Ray Disc reproduces all that with stunning detail and solid visual depth, thanks to good black levels and an overall balanced exposure.
The audio on the release is equally pleasing. Dialogues are always understandable and perfectly placed in the mix and the classical music that makes up the vast majority of the film's score is beautifully rendered with a wide sound field. A good bass extension adds to the presentation, giving the track proper range.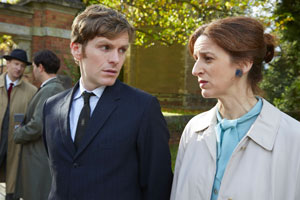 A few extras round out the release, such as an interview featurette with Shaun Evans, as well as other featurettes, taking a look at the locations of the show, as well as other background information.
If you've been a fan of the show, it is clear that you should grab your copy of Endeavour: The Complete Fourth Season right now. The Blu-Ray version is offering a truly splendid presentation of the show that is better than anything you'll ever see on a compression-riddled streaming video service.
But if you haven't experienced Endeavour before, this is a good time to give it a try, because Season 4 is another highlight in the ongoing series, which will return for a fifth season next year, I hear.