"Terminator 2" is back… in 4K Ultra HD
Lionsgate Home Entertainment has just added a brand new version of James Cameron's action blockbuster Terminator 2 to its release line-up, scheduling a 4K UHD version of the movie for release in October.
Aside from the iconic sci-fi action classic itself, the release will also include a New 55-minute Documentary called "T2: Reprogramming the Terminator" featuring exclusive interviews with Arnold Schwarzenegger, James Cameron, Edward Furlong and others.
Also included on the release are two Commentary Tracks, featuring 23 members of the cast and crew, including director James Cameron and co-author William Wisher. In addition, the 30-minute Featurette "THe Making of T2" is also included, along with Seamless Branching to View 3 Different Versions of the Movie.
Two Deleted Scenes with Audio Commentary and a selection of Trailers will round out the release.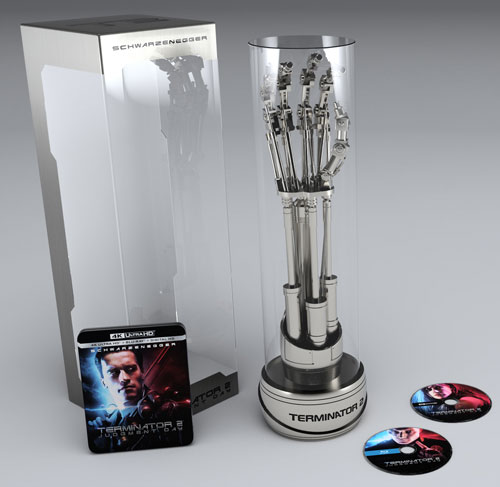 In addition, Lionsgate will also release a
Limited Edition
of the release, featuring a
Life-sized Terminator EndoArm
that includes a uniquely numbered sticker, featuring the signature of writer-director James Cameron.
Terminator 2: Judgment Day will arrive in stores on October 3 for $22.98 on 4K UHD and $174.99 as the Limited Edition.