"L.A. Confidential" celebrates 20th Anniversary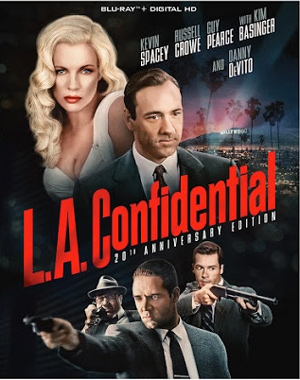 To celebrate the 20th Anniversary of Curtis Hanson's L.A. Confidential, Twentieth Century Fox Home Entertainment is preparing a new release of the movie on Blu-Ray Disc and DVD.
Director Curtis Hanson and a terrific cast serve up a "thrilling tale of police corruption and Hollywood glamour" (Marshall Fine, Gannett Newspapers) in this film based on James Ellroy's novel. Three cops (Kevin Spacey, Russell Crowe, Guy Pearce), a call girl (Kim Basinger), a mysterious millionaire (David Strathairn), a tabloid journalist (Danny DeVito) and the chief of detectives (James Cromwell) fuel a plot rife with mystery, ambition, romance and humor.
Filled also with tons of special features, the release will feature a Commentary by Critic/Historian Andrew Sarris, James Ellroy, Russell Crowe, Kevin Spacey, Guy Pearce, James Cromwell, Ruth Myers, David Strathairn, Kim Basinger, Brian Helgeland, Jeannine Oppewall, Dante Spinotti and Danny DeVito.
In addition, the Featurettes "Whatever You Desire: Making L.A. Confidential," "Sunlight and Shadow: The Visual Style of L.A. Confidential," "A True Ensemble: The Cast of L.A. Confidential," and "L.A. Confidential: From Book to Screen" will be included, along with the "L.A. Confidential TV Series Pilot".
Further, the release contains "Off the Record", a series of Vintage Cast/Creator Interviews, as well as Director Curtis Hanson's Photo Pitch.
Also look for The L.A. of L.A. Confidential Interactive Map Tour and a 5.1-channel Music-Only Track showcasing Jerry Goldsmith's grandiose score. The release is rounded out by Trailers and T.V. Spots.
L.A. Confidential will arrive on September 26 and can be yours on Blu-Ray Disc or DVD.