"Westworld: Season One" to arrive in November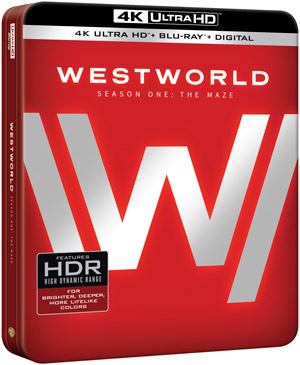 Warner Brothers Home Entertainment and HBO Entertainment have just revealed details about the upcoming release of the acclaimed television series Westworld to debut on 4K UHD, Blu-Ray Disc and DVD in November.
Based on the film written by best-selling author Michael Crichton (ER, Jurassic Park films), Westworld is a dark odyssey about the dawn of artificial consciousness and evolution of sin. Set at the intersection of the near future and a reimagined past, the series explores a world in which every human appetite, no matter how noble or depraved, can be indulged.
 
Westworld: Season One features a star-studded cast led by Academy Award® winner Sir Anthony Hopkins, Golden Globe winner Ed Harris, Golden Globe and Emmy® nominee Evan Rachel Wood and Golden Globe nominee Thandie Newton.
Aside from all 10 one-hour episodes of the show's first season, the release will also include a host of bonus features, such as the Inside Look Featurette with Jonah Nolan and Lisa Joy. Also included are Featurettes, covering aspects, such as Imagining the Main Title, The Key to The Chords, the 2017 Comic Con Panel, and a Gag Reel.
Further, you will find Welcome to Westworld on the release, along with Crafting the Narrative, An Invitation to The Set, Welcome to Westworld: About the Series, Reality of A.I.: Westworld and "The Big Moment".
Westworld: Season One will arrive in stores on November 7 as a 6-disc 4K UHD version for $64.99, or as a 3-disc Blu-Ray set for $54.97, or as a 3-disc DVD set for $49.99.