Sony brings "The Bridge on the River Kwai" to 4K UHD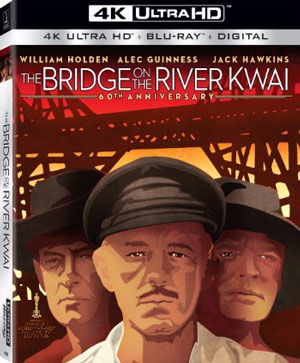 Sony Pictures Home Entertainment has unveiled specs this morning, about the upcoming 4K UHD release of the epic WWII drama The Bridge on the River Kwai, scheduling its release for October.
When British POWs are forced to build a vital railway bridge in enemy-occupied Burma for their Japanese captors, Allied commandos are assigned to destroy it in David Lean's epic World War II adventure The Bridge on the River Kwai. Spectacularly produced, The Bridge on the River Kwai captured the imagination of the public and won seven 1957 Academy Awards®, including Best Picture, Best Actor (Alec Guinness), and Best Director. Even its theme song, an old WWII whistling tune, the Colonel Bogey March, became a massive hit. The Bridge on the River Kwai continues today as one of the most memorable cinematic experiences of all time.
Offering a ultra high definition presentation of the feature film itself, the release also includes the Blu-Ray version of the movie, which comes with a host of bonus features, such as the Crossing the Bridge Picture-in-Picture Graphics Track, as well as the Making of The Bridge on the River Kwai Featurette.
Also included is The Steve Allen Show with William Holden & Alec Guinness and The Bridge on the River Kwai Premiere Narrated by William Holde. Further, you will find the Featurette Rise and Fall of a Jungle Giant on the release, as well as the USC Short Film Introduced by William Holden and An Appreciation by Filmmaker John Milius.
The release is rounded out by a Photo Gallery and the film's Theatrical Trailers.
The Bridge on the River Kwai will arrive in stores on October 3 as a 4K UHD release for the first time.