"Willard" appears on Blu-Ray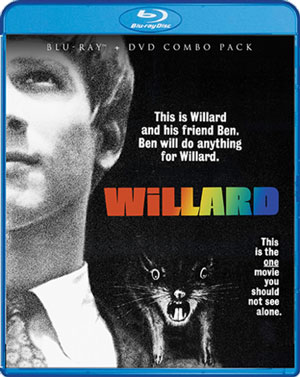 Shout! Factory has just added the 1971 horror film Willard to its release line-up, bringing fans a Blu-Ray and DVD Combo Pack in May.
Where your nightmares end… Willard begins.
Willard Stiles (Bruce Davison) is a young man with a big problem. He lives alone in a crumbling house with his ailing mother (Elsa Lanchester). His boss, Al Martin (Ernest Borgnine) is a vulgar, cruel man who stole his business from Willard's father and is now working Willard to death at his factory job.
Lonely, depressed and isolated, Willard is on the verge of a breakdown when he makes a new friend: Ben, one of the many rats who inhabit his dilapidated home. Not only can Willard communicate with the rodent, but he can actually command him to do his bidding. Using Ben and his furry friends as instruments of retaliation, Willard commands his pets to carry out his vengeance…
The release will offer a 1080p high definition presentation of the movie for the first time, though Shout! Factory has not yet announced exact details, specs and bonus materials at this time. We will keep you posted, however.
For now, mark your calendars because Willard will invade your living room on May 16.