Blue Underground releases "Venom" in February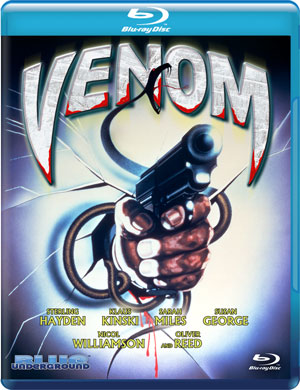 Blue Underground has added the 1982 cult thriller Venom to its line-up, scheduling a brand new Blu-Ray version of the movie for February.
It was supposed to be the perfect crime: the sexy maid (Susan George), a psychotic chauffeur (Oliver Reed) and an international terrorist (the legendary Klaus Kinski) kidnap a wealthy ten-year-old boy from his elegant London townhouse. But they didn't count on a murdered cop, a desperate hostage siege, and one very unexpected houseguest: a furious Black Mamba, the most lethal and aggressive snake known to nature. It can attack from ten feet away. Its bite brings excruciating death. And it is on the loose. Now, terror knows no antidote… and the ultimate in slithering mayhem is VENOM.
For this release, Venom has been remastered in 2K high definition from its original negative and features some very real – and extremely deadly – Black Mambas! It features a 1080p high definition transfer and a 7.1 DTS-HD Master Audio track.
The release will contain only a limited number of bonus features, unfortunately, with an Audio Commentary with Director Piers Haggard being the centerpiece. In addition, the release also contains a Poster & Still Gallery as well as the movie's Theatrical Trailer, Teaser Trailer and TV Spots.
Venom arrives in stores around the country on February 7 for only $19.99.