Poldark: The Complete Second Season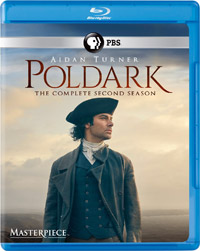 Poldark: The Complete Second Season (2016)
PBS Home Video
Cast: Aidan Turner, Eleanor Thomlinson, Heida Reed, Ruby Bentall, Beatie Ednie, Phil Davies
Extras: Featurettes
Rating: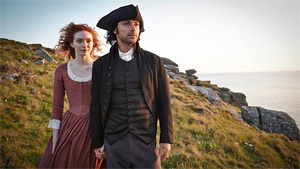 When PBS Entertainment announced the second season of Poldark to arrive on Blu-Ray this fall, I was excited and eager to continue watching the tribulations playing out. With the television broadcast complete, now the second season of the tremendous series is available in high definition and makes the show all that much more enjoyable.
Poldark: The Complete Second Season picks up exactly where the previous season left off, with Ross Poldark (Aidan Turner) being hauled away to prison after being accused of theft and inciting a riot when a ship was wrecked on the beach along his property.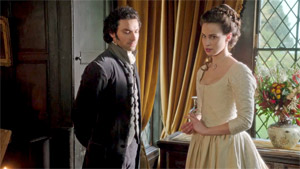 From there, the show continues its rollercoaster ride of conspiracies as George Warleggan (Jack Farthing) entrenches himself in his desire to ruin Poldark. After Poldark repeatedly rejected to borrow money from the loan shark who ruins people's lives and steals their businesses with hostile takeovers, Warleggan goes to extraordinary lengths to discredit Poldark's reputation and goes even as far as paying for false witness accounts and printing leaflets full of slanderous accusations to sway the public's and the court's perception of the man.
With the court date nearing, tensions build and Poldark's wife Demelza (Eleanor Thomlinson) turns to the people she knows for help, but Ross' fate seem to be sealed for good this time. Through a twist of fate, however, Poldark is vindicated and he is angrier than ever. Now that he is aware who is friends and who his foes are, he is even more determined to make sure he will never put his fate in Warleggan or one of his cronies' hands. But with every new attempt by Warleggan, he hits closer to home and makes things more personal for Ross Poldark, and with the mine failing and his relationship with Demelza crumbling, it only adds to turning him into a bitter and lonely man destined for complete ruin.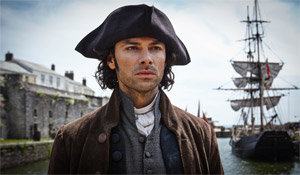 Set once again on the breathtaking coast of Cornwall, Poldark: The Complete Second Season is a mesmerizing trip back in time with a cast of characters that is as lovable as they are flawed. In the world of Poldark no one is perfect and everyone has his cross to bear and hardship to overcome, be it financially, morally or emotionally. It is what gives the story its depth and as a result, the plot never strays, never feels bogged down by minutiae and always offers new surprises and developments along the way.
Once again, Aida Turner puts in a marvelous performance as Ross Poldark, his character's inner darkness shimmering through his portrayal at every corner. He is as magnificently beautiful as the character and as rugged as the landscape he inhabits.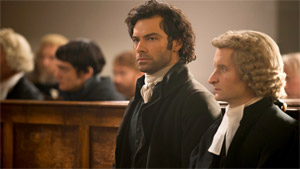 Supported by Eleanor Thomlinson as his wife Demelza, once again, we find Thomlinson's performance to grow in power as Demelza finds her own inner strength along the way. At the same time, she remains vulnerable throughout and makes the perfect counterpoint to Turner's Poldark.
The list of grandiose cast members continues with Jack Farthing as Poldark's nemesis, Heida Reed as his former love, Beatie Ednie, Phil Davies and many more.
Arriving as a 3-disc Blu-Ray set, the release is beautiful to behold with the show's magnificent cinematography reproduced with extraordinary faithfulness. Rich colors complement the stunning vistas of Cornwall, down to the tiniest details and grit of the impoverished villages and hamlets. Skin tones are faithfully rendered and the transfer's deep blacks give the image the visual depth to properly root the presentation. Highlights are clean and clear and the level of detail is well maintained throughout, down to the seams and frazzles of the ragged clothing.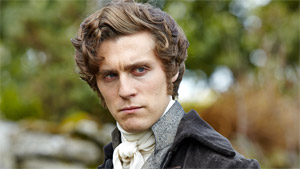 In addition to all 10 episodes that make up the second season, the release also contains a number of bonus features, found on the set's third disc. They consist of a series of featurettes, covering various aspects of the production, including on-set footage, a tour of Nampara with Eleanor Thomlinson, info about the historic context of the show, as well as an examination of all the characters and the actors to play them.
Poldark: The Complete Second Season is once again a well-rounded release from PBS Entertainment's Masterpiece series, putting quality television production on the forefront and reinforcing the network's stature as the preeminent provider of intelligent stories with depth, character, and beauty. Make sure to get your copy now and enjoy the fire and drama of this magnificent series.